In Bed With Porn Super Agent Mark Spiegler: 'It's Business, With Sex'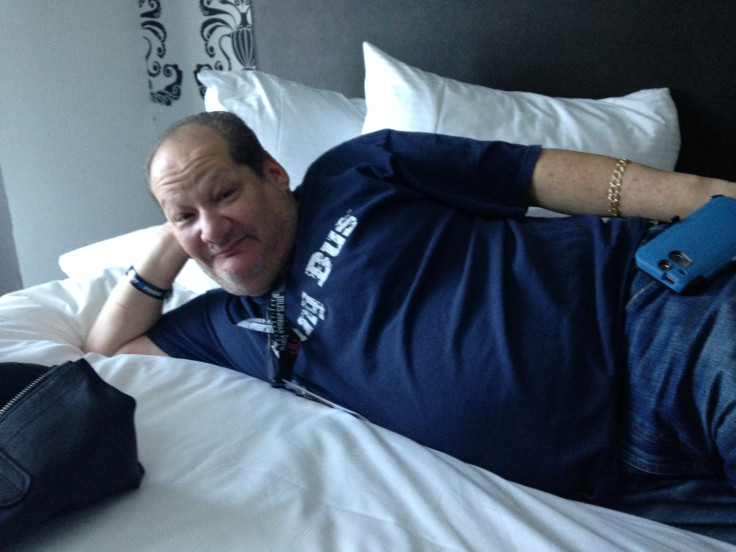 LAS VEGAS -- Mark Spiegler, super agent to the porn stars, has just had lunch at the Pink Taco, and he's lying on his side in bed at his hotel suite at the Hard Rock. He's in town for the AVN Expo and AVN Awards show on Saturday, and if previous years are any indication, one of the "Spiegler Girls" will win a major award at the "Oscars of porn." In the past two years, a Spiegler Girl has nabbed the top Performer of the Year prize: Asa Akira in 2013 and Bonnie Rotten last year.
The 56-year-old Spiegler, dubbed the "Ari Gold of porn" by L.A. Weekly, referring to the manic Hollywood agent in "Entourage" played by Jeremy Piven, may look relaxed, but by his own admission, he's a workaholic. "I have to work all the time," he said, reclining on the hotel bed, where he opted to conduct an interview. "I can't just relax. I'm on 24 hours a day, seven days a week, 365 days a year. I answer the phone all the time because I don't want the girls to miss any work." He said that even with three moratoriums on porn shoots last year due to HIV scares, "Our business is up. We had a record year."
He credits this work ethic -- one his clients try to emulate -- as the secret to his agency's success. Spiegler Girls include some of the porn world's biggest names, including Asa Akira (whose worth was estimated by TheRichest at $1.5 million in 2013), Chanel Preston and Skin Diamond. In addition to securing jobs, negotiating terms and advising his clients on social media, Spiegler says he wants to help his performers create a successful career so they have something to go to after they leave the adult industry. "Not all agents care about that," he said.
The industry is now in an economic climate in which porn stars seem to have to work more for less money. Spiegler told the Hollywood Reporter in 2012 that in 2002 the average porn star made about $100,000 a year, but a decade later they were making half that amount all while having to do social media outreach and make personal appearances. Spiegler said the economics haven't changed much since that interview, although his clients' average earnings are slightly higher than the industry average: $75,000 to $100,000 a year.
'Lots of pretty girls'
But performers are rolling with the punches. Spiegler client Chanel Preston told International Business Times that when she got into the business in 2010, she knew she had to be more than a pretty girl willing to have sex to become successful -- "There are lots of pretty girls willing to have sex" -- so she set out to build a brand, with a social media strategy. Jessie Andrews, also a Spiegler client and AVN Awards Best Actress winner in 2012, has added jewelry designer, sometime model for American Apparel and other brands, and international DJ to her résumé. And with more than 200,000 Twitter followers, she has pretty much mastered the social media game.
In a sense, Spiegler manages multiple microbrands, receiving around 10 percent to 15 percent commission for the jobs he books for his clients. Unlike other agents in the porn world who may take on hundreds of clients, he manages the careers of only around 25 women.
This day trader-turned-porn agent makes sure his clients behave professionally in an industry that could be forgiven for attracting or creating flaky types. "Companies book because these girls are professional. They show up on time with their [health] tests and ID. I tell the girls, 'You have three jobs.' " The first, he says, is to have sex on camera. (He phrases it more colorfully.) The second and third: "Don't make me look bad, and don't give me something to worry about."
Since he founded Spiegler Girls in 2003, only one performer has been late to a shoot. "She was gone before she could pick up the phone to call me," said Spiegler. Carter Cruise, a Spiegler client who has been blow-drying and spraying her hair off to the side during the entire interview, giggled in the background.
Spiegler, a self-described "patron of the tarts," has pretty old-fashioned values for someone in this line of work, but he says that at the end of the day, porn, whether on the agent or performer side, is a job. "The biggest misconception about this business is that it's a big party all the time. It's not all sex, all the time. It's a real business – with sex."
© Copyright IBTimes 2022. All rights reserved.
FOLLOW MORE IBT NEWS ON THE BELOW CHANNELS