How To Succeed In Porn: 'You Need To Be More Professional Than Ever'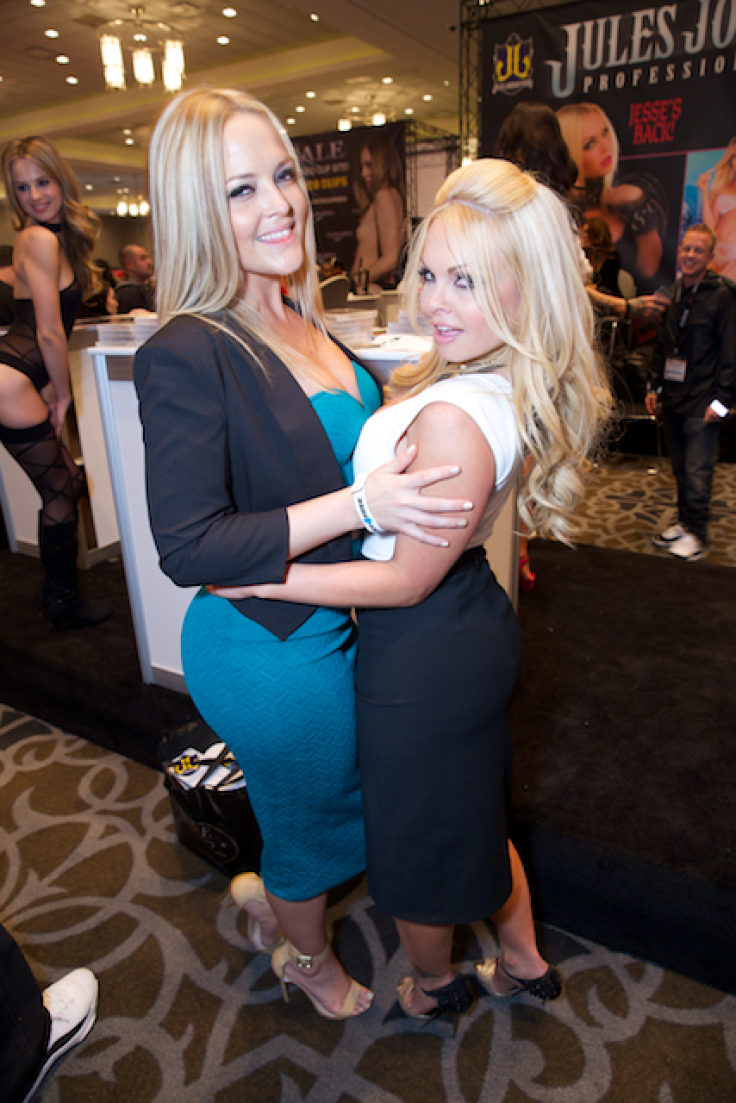 LAS VEGAS -- It's Wednesday evening, and the Hard Rock Hotel and Casino in Las Vegas is in a perpetual haze of cigarette smoke and loud rock music. Heavily made-up women in short, tight dresses and sky-high heels and men who've arrived from all parts of the world to ogle them are beginning to outnumber the casino denizens at their blackjack tables and slot machines.
Sure, it's Las Vegas, but this also the Adult Entertainment Expo, the largest event of its kind, a convention-slash-trade show-slash-bacchanal for the porn industry. The four-day expo, with over 200 exhibitors, 500 porn stars, and 30,000 members of the "industry" features seminars on subjects like how to get around Google censorship, how the "50 Shades of Grey" phenomenon has positively impacted the industry, alongside an opportunity for fans (mostly men) to meet their favorite porn stars. The AVN Awards, the adult industry's version of the Oscars, takes place in a few days, on Saturday 24th.
Overseeing it all is Theo Sapoutzis CEO of Adult Video News Media Network, the Billboard or Variety if you will, of the adult entertainment industry. Of all the content industries upended by digital distribution the porn industry was hardest hit, but one could argue the total apocalypse happened quicker, forcing the survivors to adapt. Production has slowed, but the porn industry has already been living in PornHub's world of free, ubiquitous porn online for years. What's emerged is a polyglot economy of micro-businesses targeting every conceivable niche.
Monetize every aspect
Walking around the hazy casino floor, agents, novelty products producers, porn stars and Sapoutzis himself say reports of the adult industry's death are greatly exaggerated, but they all know they need to step up their game. For an industry that thrives on fantasy, the message from Sapoutzis to the biz was: Get real. To stay competitive, a few elements are crucial: being a pro, giving people what they want, and monetizing every aspect of your business. "Gone are the days you could just pick up a camera, make a film, and buy a house with the money you make," he said.
The decline in adult content production isn't only in the U.S., said Sapoutzis, but also in Europe, Canada, and Australia. "But in Asia, especially Japan" Sapoutzis said, "things are more steady. They have been very careful about regulating pirated content. Their laws are more strict."
For performers, the decline in content production has turned full-time work into part-time work. In her keynote address, Asa Akira, one of the adult industry's most popular and well-paid performers, is going to throw some cold water on aspiring performers out to make a fast buck. A common refrain, "You need to be more professional than ever," is also going to come with the message that if you want to see if you have what it takes to be a performer in the adult industry, the first thing you should do is take a really low paying job with no benefits or extras. "If you can handle it," Sapoutzis says she'll tell her audience, "the industry is for you. If you're expecting more, forget it. It was different in the past, but things change."
Goodbye easy money
In spite of some of the Debbie Downer messages, Sapoutzis is upbeat. "You can't say that the industry as a whole isn't doing well," said Sapoutzis. He argues that more people are consuming adult content than ever before, and that the Internet Expo had a record attendance for its seven year history, with a "super positive vibe."
From about 1996 until about 1999, Sapoutzis said, people were making really easy money doing "almost nothing." Things were more difficult from 1999- 2003, but there was still money to be made. Still, consumers began to demand more.
"There are adult dating and cam sites, a billion dollar industry. You have sex products, lingerie. They're thriving. The only element of the industry that isn't what it used to be is related to production." And for the content production companies in an industry that's "maturing," Sapoutzis has some advice: "More than ever, they need to monetize every element they can generate profits. For example, there are some people for whom DVD distribution is their main business," he said. "This is catastrophic. The future is written on the wall."
Some old-school companies, said Sapoutzis, have only recently even begun providing video-on-demand, worried they're not going to get paid or if it's going to work. He calls this "the video mentality." Said Sapoutzis: "We're in an era where you have to be quick. Try everything, and if it doesn't work, it doesn't work."
50 shades of product
The adult novelty industry has received a big boost -- 30 percent growth – according to Sapoutzis, since the "50 Shades of Grey" phenomenon hit the mainstream. And he's excited for the movie. " '50 Shades of Grey' gave adult toys a better perception to the average person," he said. "The taboo element went away from some people. Hollywood's bringing attention, and they're creating novelty products and lingerie consumers."
Regarding the oft-asked question of piracy and its impact on the industry, Sapoutzis is philosophical, saying it was around since the beginning of the industry, and that the first adult content online was stolen content, pirated films. "The Millenium Copyright Act protects a lot of companies," said Sapoutzis.
"At the end of the day, unless legislation changes, the industry needs to ask itself, 'How am I going to move forward?' You can cry all day long about how you used to make a lot of money. Or you could provide creative ideas, good service for consumers, ethical billing policies, quality customer support, and you can have a successful operation."
© Copyright IBTimes 2022. All rights reserved.
FOLLOW MORE IBT NEWS ON THE BELOW CHANNELS