Is Ben Carson Qualified To Be Commander In Chief? During Debate, Neurosurgeon Says He Isn't Afraid To Inflict Harm For Greater Good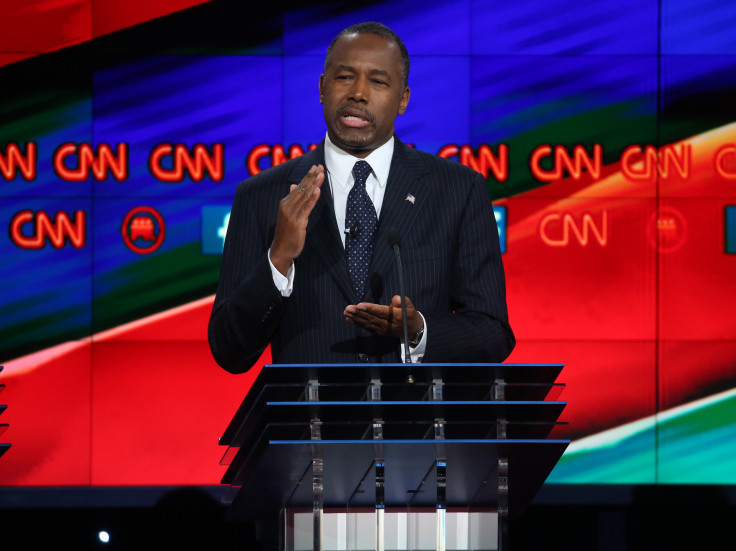 Former neurosurgeon and Republican presidential hopeful Ben Carson cited his medical background as part of his qualifications to serve as commander in chief during Tuesday's GOP debate on CNN. When asked whether he was ready to order airstrikes and participate in a war that would cause harm to many people, Carson said his oath as a doctor would not prevent him from serving as president.
"You have to understand that it's actually merciful if you go ahead and finish the job," he said. Carson noted how as a neurosurgeon, he often had to explain to children that he needed to cut their head open to make them feel better in the long term. "But later on they love me," he said.
Carson dominated the race for the past several months, as one of the front-runners in the Republican Party, rivaling real estate mogul Donald Trump for first place in the polls. But Carson's support has fallen off somewhat in recent weeks. While he remains toward the front of the pack, an average of recent polling from Real Clear Politics put Carson in fourth place, with 12 percent of support.
The former neurosurgeon has come under fire for appearing unknowledgeable concerning some issues of national security. In a recent speech to the Republican Jewish Coalition, Carson repeatedly confused Hamas, the militant group based out of the Palestinian territories, with hummus, a chickpea spread.
One of his former advisers also slammed him for not being well-versed on foreign policy. "Nobody has been able to sit down with him and have him get one iota of intelligent information about the Middle East," said Duane R. Clarridge, an adviser to Carson on terrorism and national security, the New York Times reported in November. The Republican candidate fired back at Clarridge, saying he was not a permanent adviser and had only been subcontracted.
© Copyright IBTimes 2023. All rights reserved.