Bernie Sanders Independent Run For President: After Big Wins For Hillary Clinton, Is Third Party Run An Option?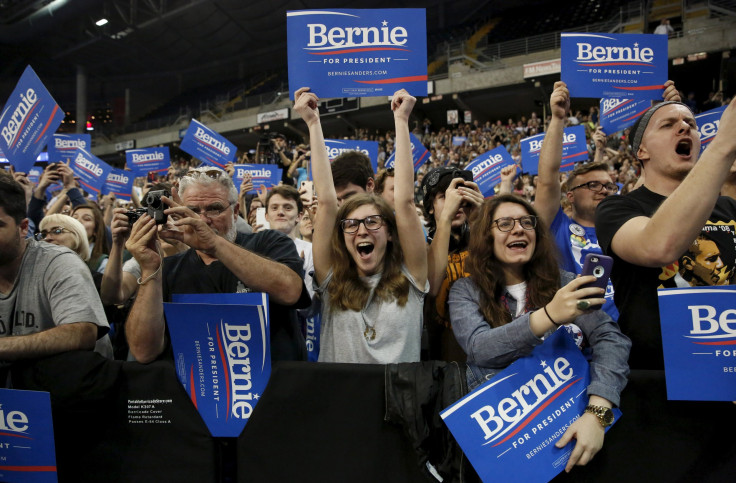 After devastating losses to Hillary Clinton in Florida, North Carolina, Ohio and Illinois Tuesday night, Bernie Sanders' path to the Democratic presidential nomination is looking nearly impossible. But there is one remaining option that could keep him in the race until November and allow him to make use of his massive campaign haul: running as an independent.
Independent voters have been flocking to Sanders. In the Feb. 1 Iowa caucuses, Clinton won 56 percent of self-identified Democrats and 26 percent of independents who voted in the Democratic contest, while Sanders won 39 percent of Democrats but 69 percent of independents. In fact, in states across the nation, Sanders consistently does better with independents voting in Democratic primaries and caucuses, with 40 percent or more of his support coming from non-affiliated voters. Many of his supporters are unsure whether they would support Clinton in a general election, according to exit polls. The Washington Post described Tuesday Sanders' election strategy to win over independents in an article titled: "How Bernie Sanders is hijacking the Democratic Party to be elected as an independent."
Sanders assured voters in November that he was now a Democrat after more than three decades of running as an independent or minor party candidate in Vermont. After California Sen. Barbara Boxer, who supports Clinton, tweeted in February that was Sanders was a Democrat only on "some days," he responded: "Of course I am a Democrat and running for the Democratic nomination."
But Sanders has never officially been a member of the Democratic Party, and has long criticized its positions from the sidelines. In 1980, he served as a presidential elector candidate for the Socialist Workers Party, a Marxist party that is committed to nationalizing major industries. In 1989, he said the Democrats and Republicans were "in reality, one party the party of the ruling class." That same year, he described the two parties as "tweedledee" and "tweedledum" in an oped in the New York Times.
Sanders has said time and again that he doesn't believe in running as a "spoiler," the label used against third-party candidate Ralph Nader after Democrat Al Gore's loss in 2000. "I have no taste for symbolic campaigns," Sanders wrote in his 1997 political autobiography, "Outsider in the House."
More recently, he said last year he wouldn't upset the race with an independent run. "If it happens that I do not win that process, would I run outside of the system?" Sanders said in the interview broadcast by C-SPAN. "No, I made the promise that I would not and I will keep that promise. And the reason for that is I do not want to be responsible for electing some right-wing Republican to be president of the United States."
With the path to the nomination now becoming more narrow, it's unclear if Sanders will keep his promise. Sanders' policies are often considered outside the political mainstream. He has called for a singer-payer heath insurance, free college tuition, campaign finance reform and higher taxes for high earners.
And Sanders has conceded that his decision to run as a Democrat was a calculated move that wasn't motivated by party loyalty. During a MSNBC town hall last weekend, he was asked by an Ohio voter why he was running as a Democrat and explained: "We did have to make that decision: Do you run as an independent? Do you run within the Democratic Party? We concluded, and I think it was absolutely the right decision, that A) in terms of media coverage, you had to run within the Democratic Party. Number two, that to run as an independent, you need — you could be a billionaire. If you're a billionaire, you can do that. I'm not a billionaire. So the structure of American politics today is such that I thought the right ethic was to run within the Democratic party."
Sanders' supporters have urged him to consider an independent bid in the past. Most recently, his biggest union supporters said the Democratic Party was unfairly helping Clinton and he should enter the race on his own. "This campaign has been so biased from the beginning. It's sabotage. It's continuous. They make the Republicans look democratic," RoseAnn DeMoro, executive director of National Nurses United, told the Guardian in December. "We are at a rupture here in democracy and the Democratic Party."
Sanders will have to make up his mind soon. One of the most significant hurdles for independent bids is gathering lots of signatures to gain ballot access in every state.
For now, Sanders hasn't signaled whether he is considering an independent run. As results came in from Florida and Ohio Tuesday night, he traveled to Arizona ahead of next week's primary there to meet with voters.
"We are doing something very radical. ... We are telling the truth," he told supporters.
© Copyright IBTimes 2023. All rights reserved.
FOLLOW MORE IBT NEWS ON THE BELOW CHANNELS