Bernie Sanders' Massive Plan Reveal: Tax The Rich, Squeeze $3 Trillion From Fossil Fuel Industry
KEY POINTS
Sen. Bernie Sanders releases details of funding for his major plans
The funds will come from taxing the ultra-rich, big corporations, and the fossil fuel industry
Sanders' wants the U.S. to pull back from its role guarding the world's oil supply lines
Sen. Bernie Sanders, I-Vt., the front-runner for the Democratic nomination, released a checklist that details how he would fund all of his proposals.
Sanders' refusal to discuss precise financing details for the sweeping new plans he has proposed, such as Medicare for all, housing for all, Green New Deal, etc., had drawn flak for months. But by avoiding publishing those details, he also has largely avoided the blowback that hit his Democratic rival Sen. Elizabeth Warren, D-Mass., when she unveiled the details of her own Healthcare plan that would rely on tax raises on businesses and wealthy Americans.
With Sanders now ensconced at the top of the pack of Democratic nomination hopefuls, he could not have held back on the details of his plans much longer. Especially since his interview with CBS "60 minutes" when he failed to give a clear reply to questions on the plan expenditures and funding.
The plan was released Monday night on Sanders' website, minutes after he promised to do so in a CNN townhall. Read the details of the plan here.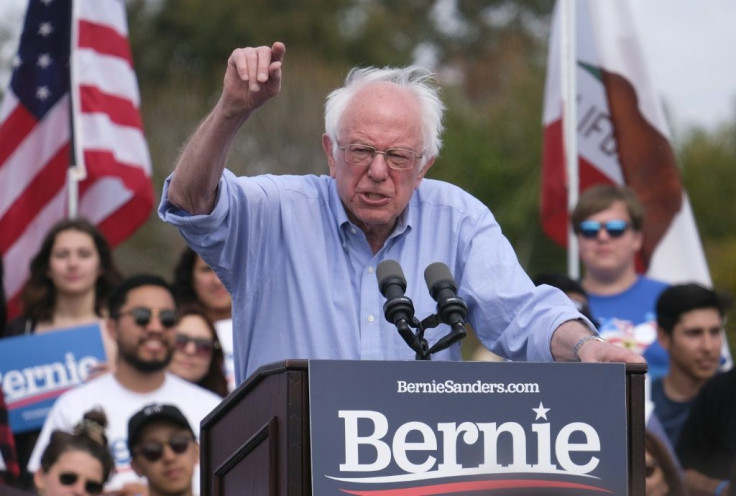 Sanders' list gives a detailed account of how the self-described democratic socialist would find the money to fund his expansive plans, which can redraw the economy of the country and, through crippling financial blows to the fossil fuel industry, redraw the world economy itself.
Sanders' proposals are mostly about raising taxes on the ultra-rich and large corporations and making the fossil fuel industry pay up for his Green New Deal.
Specifically the plan talks of "raising $3.085 trillion by making the fossil fuel industry pay for their pollution, through litigation, fees, and taxes, and eliminating federal fossil fuel subsidies."
If that does not shake up the fossil fuels industry, blamed for pollution and climate change, Sanders also proposes to save $1.215 trillion by scaling back the military operations in support of America's role in protecting the global oil supply.
A CNBC report in 2018 said the U.S. spends about $81 billion a year to protect global oil supplies. President Trump said last year he wants other countries to bear the cost of protecting shipping lanes, especially the Strait of Hormuz because the U.S. has become the largest energy producer and does not need to fulfill that role anymore.
The plan also talks of creating "20 million good-paying union jobs" under his New Green Deal but has no details on how it will be achieved.
Sanders' signature plan -- guaranteed universal childcare and pre-school to every family in America who needs it -- will cost $1.5 trillion. It will be paid for by a wealth tax on the top 0.1 percent – those who have a net worth of at least $32 million.
He will raise about $2.4 trillion through a modest tax on Wall Street speculation to make public colleges, universities and trade schools tuition-free and to cancel all student debt over the next decade.
It is still early to say how the details of the reveal will impact Sanders' chances. Fox News pointed to a National Review article from June last year that had panned Sanders' plans. The National Review editors wrote then on his plans to tax Wall Street speculation:
"Senator Sanders says he would pay for this bonanza with a tax on "Wall Street speculation," i.e. a tax on savings. That's the contemporary Democratic party: taxing savings to subsidize debt for relatively affluent people. The Sanders plan would mean paying $25 to the federal government every time you traded $5,000 worth of stock — or five times what you'd pay the typical online brokerage in fees. Over the long term, that imposes serious costs on actively traded funds such as the ones containing many Americans' retirement funds. For example, if the fund that manages the retirement money of California's public-sector employees were to sell off its Microsoft position, those retirees would be obliged to pay $11 million in new taxes — on top of what they already are paying."
The plan will come for greater scrutiny in the days ahead and is expected to provide more ammunition to moderate Democrats – already in panic mode -- to take aim at Sanders. Those attacks will revolve around how such expansive and expensive promises can be kept if Sanders wins the presidency.
But for many Americans feeling the financial burden of childcare and healthcare, and growing increasingly aware of rising income inequality as well as climate change, Sanders' plan may hold out hope that can trump all the criticism that will be thrown at it.
But whether Sanders can trump Trump himself is another matter.
FOR FREE to continue reading
✔️ Unlock the full content of International Business Times UK for free
offer available for a limited time only
✔️ Easily manage your Newsletters subscriptions and save your favourite articles
✔️ No payment method required
Already have an account?
Log in
© Copyright IBTimes 2023. All rights reserved.