Bernie Sanders Relates Anti-Muslim Sentiment To His Jewish Background In NPR Interview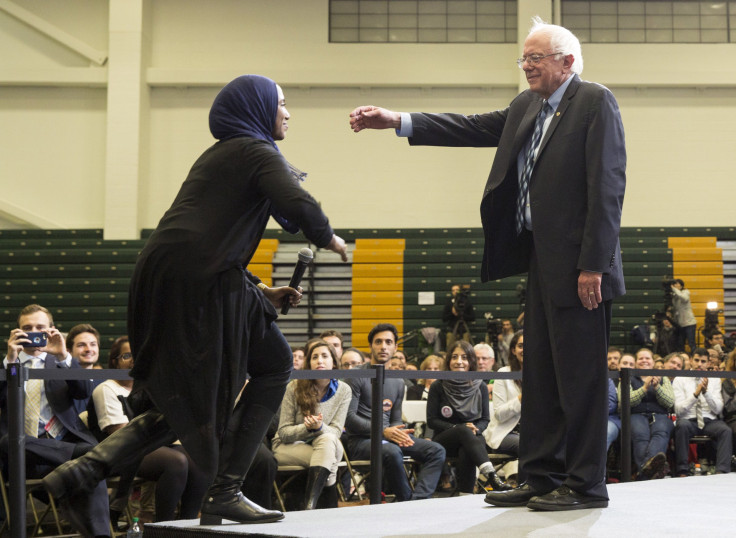 Democratic presidential candidate Bernie Sanders talked about his Jewish background in an interview with NPR Friday -- and he related the persecution of Jews to some of the prejudice Muslims in the United States face today.
"Morning Edition" host Steve Inskeep asked Sanders about how he responded to a question at a town hall meeting about the rising tide of anti-Muslim sentiment in the United States.
"You took a question from a young Muslim woman who was upset about what she felt was discrimination. As part of your answer, you said, 'I'm Jewish.' What does being Jewish mean to you?" Inskeep asked in the interview, which NPR aired on Friday morning.
In his response, Sanders made the connection between persecution of Jews during the Holocaust and what he sees as problems with racism and xenophobia in the United States.
"What I heard in her voice was fear," said Sanders. "I don't want to see kids in America being scared, because they're hearing people on television and on the radio saying these really ugly, xenophobic and racist things. This is the year 2015. We have come a long, long way as a nation. We've elected an African-American as president. All of that does relate very much to the fact that I'm Jewish."
Sanders went on to explain how seeing the effects of the Holocaust in the Brooklyn community where he grew up in impacted his worldview.
"When I was a young boy, I can remember, in the community that I grew up in, seeing people in the community who had numbers up their arms. These were the Nazi identifications, the numbers they put on prisoners in concentration camps ... And I certainly was aware of the fact that much of my father's family was killed in the Holocaust," said Sanders.
"So it was a very traumatic experience for me as a young man to know that my father's family were killed by Nazism. Killed by Hitler. And that left, if not intellectually, at least an emotional part of me would say that, 'God, we have got to do everything we can to end this kind of horrific racism or anti-Semitism.' And I have spent much of my life trying to fight that," he concluded.
Earlier in the interview, Sanders also talked about why he identifies himself as a democratic socialist.
© Copyright IBTimes 2023. All rights reserved.