Bernie Sanders Slammed By Sandy Hook Teacher's Sister Over 'Offensive' Gun Lawsuit Comments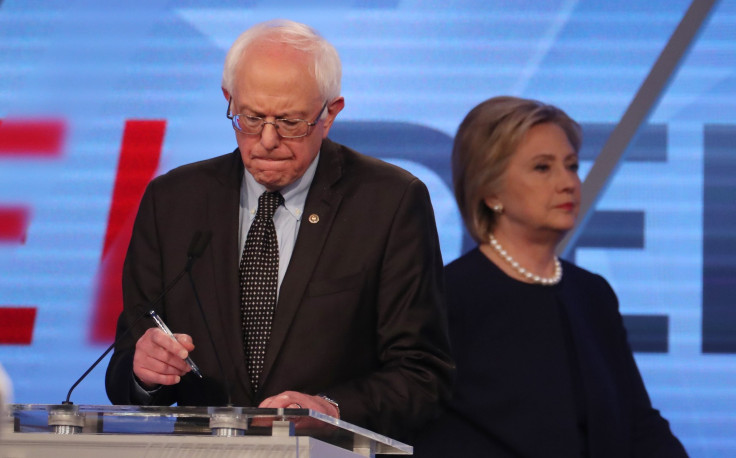 The sister of Victoria Soto, a teacher who was killed in the Newtown, Connecticut, massacre in December 2012, criticized Bernie Sanders on Wednesday for opposing efforts by families of the victims to sue gun manufacturers.
Sanders, the U.S. senator from Vermont who's seeking the Democratic presidential nomination, commented Monday on the lawsuit against gun companies and dealers in an interview with the New York Daily News. "Do I think the victims of a crime with a gun should be able to sue the manufacturer, is that your question?" Sanders said. "No, I don't."
Sanders has endured months of criticism over his mixed record on guns, and particularly on his support for a 2005 law that protects gun makers and sellers from liability when their guns are misused. As the Democratic presidential race shifts to New York for the state's April 19 primary, Sanders' rival, Hillary Clinton, has trained her attention on this issue and hit Sanders for the interview, responding directly to his comments and emailing the transcript to her supporters as a fundraising tactic.
New York has some of the strictest gun control laws in the country, and many of the state's Democratic officials have supported tougher gun laws over the years.
The remarks from Jillian Soto, sister of the late Sandy Hook Elementary School teacher, came Wednesday in a call with reporters organized by Clinton's campaign.
"Reading what Bernie Sanders said the other day to the Daily News was not only offensive, but it was insensitive," Soto said. "He doesn't know the pain my family has been going through since Dec. 15, 2012."
Soto's family is part of the Sandy Hook lawsuit, and she said on the call that her sister was killed by Adam Lanza with an AR-15 rifle, which "had no business being in citizens' hands." When pressed on this issue during his Daily News interview, Sanders defended his position on giving gun manufacturers immunity, but said there were some instances where he would support suing gun manufacturers and dealers.
"I do believe that gun manufacturers and gun dealers should be able to be sued when they should know that guns are going into the hands of the wrong people," Sanders said. "So if somebody walks in and says, 'I'd like 10,000 rounds of ammunition,' you know, well, you might be suspicious about that. So I think there are grounds for those suits, but not if you sell me a legal product."
Clinton addressed these comments Wednesday on MSNBC's "Morning Joe," saying some "really serious questions" were raised by Sanders' interview.
"I think what you saw in the New York Daily News raises questions for voters and the front page of the News, which is one of my biggest contrasts with Sen. Sanders, that he would place gun manufacturers' rights and immunity from liability against the parents of the children killed at Sandy Hook is just unimaginable to me," Clinton said.
Sanders' explanation was also not good enough for Soto or other Clinton supporters. Sen. Chris Murphy of Connecticut joined Soto on the Clinton call Wednesday, along with Rep. Elizabeth Esty, D-Conn., who represents Newtown, and former Rep. Carolyn McCarthy, D-N.Y., widow of a mass shooting victim who has been a leader of the gun control movement for years.
Murphy, Esty and McCarthy are all Clinton supporters and they each spoke emotionally about why they believe the former secretary of state will take a stronger stance against the gun industry than her rival.
"From our position in Connecticut, we cannot support a candidate for president who is going to waver in the fight against the gun lobby," Murphy said Wednesday. "I am less sure today than ever before as to whether Sen. Sanders is for us or against us with respect to our fight against the gun lobby."
Murphy added that it was "uncomfortable" to criticize Sanders, whom he said he respects, but he emphasized the gun issue was "too important" to stay silent. When the Daily News interview was published earlier this week, Murphy tweeted a screenshot of Sanders' comments and said, "Dems can't nominate a candidate who supports gun manufacturer immunity."
Another Sandy Hook family member — the daughter of the school's principal who was killed in the shooting — also tweeted criticism of Sanders this week, saying, "Shame on you."
The Connecticut primary takes place April 26. But first is the New York primary, where Clinton hopes to stave off a challenge from Sanders and maintain her lead in the delegate count by winning her adopted home state. When Clinton served as a U.S. senator from New York (2001-2009), she supported legislation to expand background checks and voted against the protections for gun dealers and manufacturers that Sanders supports.
Sanders has accused Clinton of changing her position on guns over the years, but so far, she has gotten many of the country's most prominent gun-control advocates on her side.
"Hillary Clinton has spent those decades before her time in public office and since her time in public office advocating for common sense measures to fight gun violence," said Esty, the congresswoman from northwestern Connecticut. Americans "deserve the passionate, persistent advocacy, they deserve a leader who is going to be there every day and make this a priority."
FOR FREE to continue reading
✔️ Unlock the full content of International Business Times UK for free
offer available for a limited time only
✔️ Easily manage your Newsletters subscriptions and save your favourite articles
✔️ No payment method required
Already have an account? Log in
© Copyright IBTimes 2023. All rights reserved.