Bernie Sanders Slams Trump For Russia Allegedly Learning Classified Information
Sen. Bernie Sanders of Vermont blasted President Donald Trump Monday after reports emerged that the president had shared classified information with Russian officials during a White House meeting. The Washington Post, citing current and former United States officials, reported Monday that the president had revealed highly classified information to Russian Foreign Minister Sergei Lavrov and Ambassador Sergey Kislyak during a meeting last week.
"President Trump, in a reckless and dangerous manner, has revealed highly classified information to the Russians at a meeting in the Oval Office, information that could expose extremely important sources and methods of intelligence-gathering in the fight against ISIS," Sanders said in a statement.
Read: Bernie Sanders Says Trump's Tax Plan Makes Rigged System Worse
According to the officials cited by the Post, Trump discussed classified information about a terrorist plot by ISIS related to the use of laptops on airplanes. The information came from a secret intelligence partner "considered so sensitive that details have been withheld from allies and tightly restricted even within the U.S. government," the Post reported.
The report called it "code-word information," or information that is classified under the highest level by the government. Officials, along with Sanders, said Trump's sharing of the information could hinder cooperation from an indispensable ally.
"This could endanger intelligence sharing with a key ally in the Middle East," Sanders said. "Protecting our national security is one of the most important tasks a president has and Trump is failing at it."
The Trump administration staunchly denied any classified information was revealed by the president.
"The president and the foreign minister reviewed common threats from terrorist organizations to include threats to aviation," said national security adviser H.R. McMaster, who was present during the meeting. "At no time were any intelligence sources or methods discussed, and no military operations were disclosed that were not already known publicly."
Trump himself also said he had had an "absolute right" to share facts with Russian officials.
"As President I wanted to share with Russia (at an openly scheduled W.H. meeting) which I have the absolute right to do, facts pertaining to terrorism and airline flight safety," Trump said on Twitter. "Humanitarian reasons, plus I want Russia to greatly step up their fight against ISIS and terrorism."
Read: Bernie Sanders Committed To Fighting Trump's Agenda
Sanders concluded his statement by calling for a special prosecutor to investigate Trump's possible collusion with Russia.
"All of this makes it vitally important that Trump make public any recordings he has of conversations in the Oval Office," Sanders said. "We also need to proceed as soon as possible with the appointment of a special prosecutor."
Other top Democratic officials echoed Sanders' sentiments. House Minority Leader Nancy Pelosi said on CNN Monday that if the report is true, it "undermines the trust we would have with our allies."
"We cannot have the President of the United States being casually loose-lipped about confirming something, even if it's in the public domain, to an adversarial nation," Pelosi said. "This is dangerous."
It's not the first time Trump has been accused of being reckless with information. Trump was accused of discussing sensitive foreign policy information in February with Japanese Prime Minister Shinzo Abe in public at his Mar-a-Lago resort. White House press secretary Sean Spicer said at the time that "everyone jumped to nefarious conclusions" based on photographs taken of the two leaders.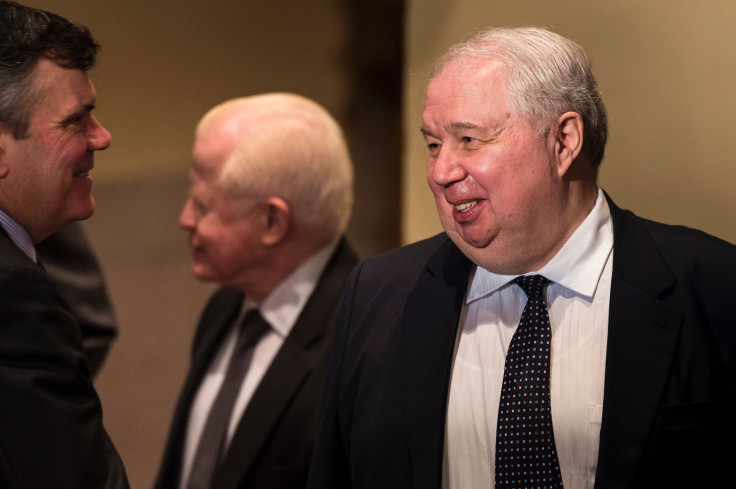 © Copyright IBTimes 2023. All rights reserved.