Best Movie Of The Year: In 'Moonlight' Reviews, Film Critics Describe 'Epic,' 'Perfect,' And 'Visually Rich' Story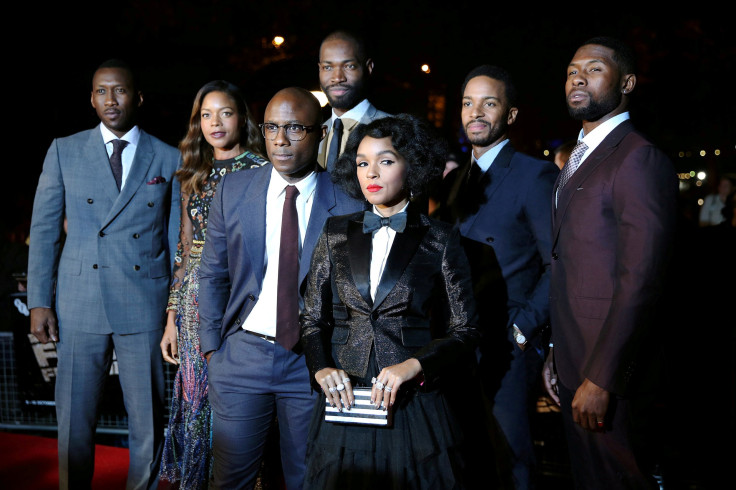 Barry Jenkins' 2016 film "Moonlight," based on playwright Tarell Alvin McCraney's work "In Moonlight Black Boys Look Blue," clearly won the hearts of the Hollywood Foreign Press Association, which named it Sunday the winner of the Golden Globe for Best Motion Picture – Drama.
While the HFPA is composed of 90 non-American journalists based in Southern California, the film—about the life of a black, gay man growing up in 1980s Miami—still would've had a solid chance if the association included American critics, as well. Read on for what U.S. film writers had to say about what many consider to be the best movie of 2016.
A. O. Scott, The New York Times: "Like James Baldwin's 'Go Tell It on the Mountain'—or, to take a more recent example, like Ta-Nehisi Coates's 'Between the World and Me'—'Moonlight' dwells on the dignity, beauty and terrible vulnerability of black bodies, on the existential and physical matter of black lives. Only after I had seen 'Moonlight' for a third time—and only after a European acquaintance pointed it out to me—did I notice the almost complete absence of white people from the movie."
Peter Travers, Rolling Stone: "What needs to be said about the movie… is that its hard shell never conceals its shimmering delicacy and feeling. Though drugs and gang violence are always present, Jenkins… creates cinematic poetry out of [protagonist] Chiron's failed effort to build a wall around his heart. The actors are uniformly superb, and [Naomi] Harris, who portrays the mother in all three segments, achieves something miraculous: a forgiving portrait of neglect. With the help of James Laxton's sinuous camerawork and a soulful score from Nicholas Britell, Jenkins shows us Chiron in the act of inventing himself, of creating an identity. The effect is both intimate and epic. 'Moonlight,' which announces Jenkins as a major filmmaker, gets you good. It stays raw from first scene to last."
Richard Lawson, Variety: "… 'Moonlight' takes on the quality of an Ian McEwan story, showing how a single moment of intimacy, however doomed or blissful, can come to shape an entire life. Jenkins deftly, insightfully meditates on the fraught intersection of black masculinity and homosexuality, while also giving his film the quiet murmur of something mythic and elemental."
Hilton Als, The New Yorker: "Jenkins has influences—I would guess that Apichatpong Weerasethakul, Terrence Malick, and Charles Burnett are high on the list… but what really gets him going here is filmmaking itself, and the story he's telling. Directors such as Marlon Riggs and Isaac Julien explored gay black masculinity in the nineties, but they did so in essay-films, which allowed the audience a kind of built-in distance. Of course, no one in the nineties wanted to finance films about gay black men. Twenty years later, I still don't know how Jenkins got this flick made. But he did. And it changes everything."
David Rooney, The Hollywood Reporter: "Jenkins' well-received but little-seen 2008 date-movie debut, 'Medicine for Melancholy,' already showed insight into issues of class and race, as well as an ability to coax fine-grained performances that seemed effortless. 'Moonlight,' which is edited by Nat Sanders and Joi McMillon like an extended dream punctuated by electric awakenings, advances those merits into another league; it's fluid and seductive, deceptively mellow, and shot through with searing compassion. All the clichés of the coming-of-age movie have been peeled away, leaving something quite startling in its emotional directness. And though the movie is never sentimental, while watching you become aware how rarely we get to see black male characters onscreen in such an emotionally revealing light."
Ann Hornaday, The Washington Post: "… [viewers] will see a perfect film, one that exemplifies not only the formal and aesthetic capabilities of a medium at its most visually rich, but a capacity for empathy and compassion that reminds audiences of one of the chief reasons why we go to movies: to be moved, opened up and maybe permanently changed. Adding to its achievement, 'Moonlight' accomplishes all of this without a trace of bombast or showy self-congratulation… Directed with superb control and insight be Jenkins, 'Moonlight' achieves the near-impossible in film, which is to ground its story and characters in a place and time of granular specificity and simultaneously make them immediately relatable and universal."
Benjamin Lee, The Guardian: "Stories of LGBT people of colour have been largely ignored in film or at least relegated to the sidelines while instead, we're offered up the whitewashed history of Roland Emmerich's tone deaf 'Stonewall' or straight-friendly Oscar bait like 'The Danish Girl.' But, in a festival season that's too often populated by quite literally vanilla awards fare, writer/director Barry Jenkins' astonishing new film is both proudly black and refreshingly queer. It's a thrilling, deeply necessary work that opens up a much-needed and rarely approached on-screen conversation about the nature of gay masculinity."
© Copyright IBTimes 2023. All rights reserved.