Bette Midler Is Sorry For 'Transphobic' Tweet About 'I Am Cait' Star Caitlyn Jenner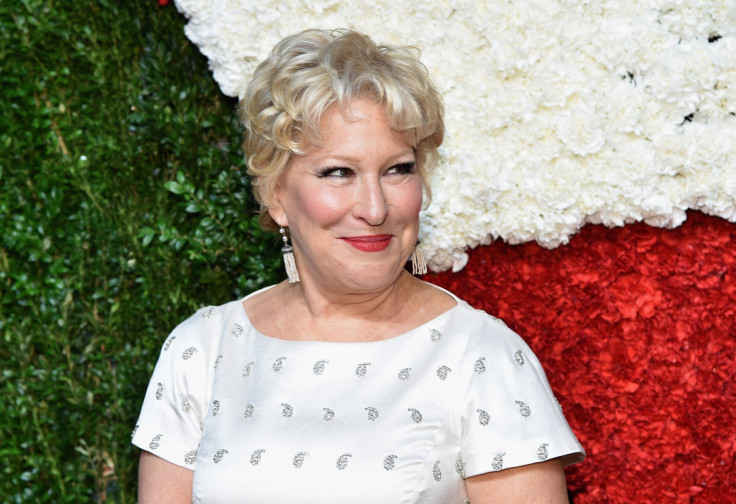 Bette Midler has said sorry for her recent tweet about Caitlyn Jenner that was widely interpreted to be transphobic.
The singer-actress took to Twitter on Sunday, to offer up an apology after she was criticized over a comment suggesting that Jenner's gender identity was nothing more than a reality TV stunt.
"Now that @IAmCait has been cancelled, will she go back to being Bruce? Will Kris [Jenner] take him back? Do I smell a re-wedding?!" the "Wind Beneath My Wings" hitmaker wrote on Saturday.
After realizing that her comment was offensive, Midler immediately removed the tweet and issued an apology, which read: "DEAR FRIENDS @HRC [Human Rights Campaign], WHOM I HAVE ALWAYS SUPPORTED. SORRY LAST TWEET OFFENDED. AN IDLE MUSING. I SEEM TO HAVE MISREAD THE TEMPER OF THE TIMES."
Her apology, however, was not welcomed by some people with open arms. As one Twitter user pointed out, there's not an appropriate time or place for transphobia.
Others argued that the "For the Boys" actress should have stood her ground.
This isn't the first time Jenner has become a subject of a transphobic remark. With the release of her Vanity cover in June 2015, Caitlyn has chosen to publicly identify as a woman. Unfortunately, a few people were not being supportive on social media, and that included Drake Bell.
"Sorry … still calling you Bruce," the former Nickelodeon star tweeted at the time.
He later added, "That's bravery."
According to E! News, the Spider-Man voice actor deleted the transphobic tweet 40 minutes later, but not before getting people fired up.
Meanwhile, E! announced on Aug. 16 that it's not renewing "I Am Cait" for a third season.
"We are incredibly proud of the two seasons of I Am Cait, a groundbreaking docuseries that sparked an important and unprecedented global conversation about transgender people, their struggles and triumphs," E! Entertainment said in a statement (via Deadline). "Caitlyn and E! have mutually decided not to move forward with another season at this time. She will always remain a part of the E! family, and we look forward to continue following her journey as she appears on 'Keeping Up with the Kardashians.'"
Although the reality TV series debuted to big ratings of 2.73 million on July 26, 2015, its performance in the ratings game soon became poor. In fact, its sophomore run, which premiered on March 6, saw fewer than 500,000 total viewers for some episodes.
© Copyright IBTimes 2023. All rights reserved.