Beyoncé Shows Off Cleavage In Plunging Gown; Later Shuts Down Assistant Adjusting Her Dress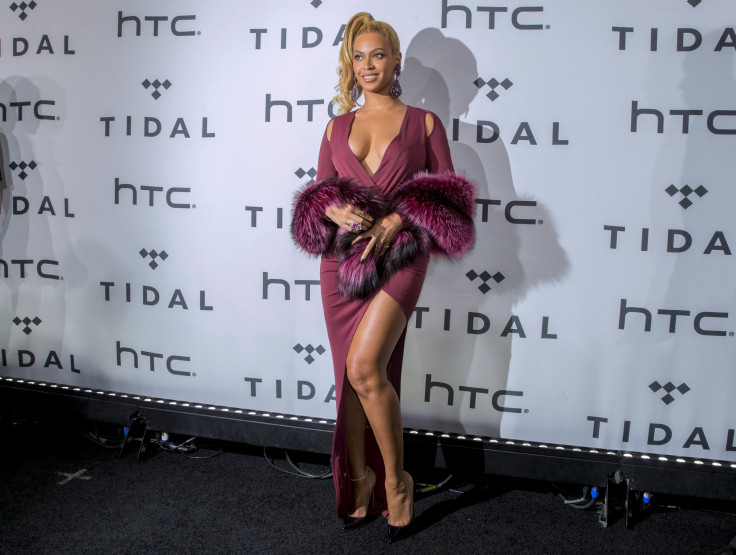 Beyoncé showed off her ample cleavage and her toned pins as she posed on the red carpet at her rapper husband Jay Z's star-studded Tidal event at Barclays Center in Brooklyn, New York, on Tuesday. The singer looked stunning in a plum-colored gown as she kicked up a storm on the red carpet.
The "Drunk in Love" singer, who graced the cover of musical magazine Beat for its latest issue, looked radiant in the dress by German fashion designer Philipp Plein. It is from his eponymous label's pre-Fall 2015 collection. The pop diva's dress is a custom version of the designer's Look 4 and featured a daring plunging neckline, thigh-high slit and long sleeves.
It also featured a cut-out near the shoulders. She teamed up the dress with a matching fur stole. The 34-year-old accessorized with statement jewelry, the Mirror reported. It included a pair of long earrings and rings, all matching with her dress.
She also wore an anklet on her right feet. Beyoncé opted for black pointed toe pumps from Christian Louboutin. Her long blond locks were styled into a high ponytail. Her hair was swept away from her face. It is the same style she wore to the Met Gala earlier this year.
While posing for pictures, one of her assistants fussed over her dress to make sure it was sitting exactly how it should. But just as she reached the top half to make some adjustments, Beyoncé shut her down, the Mirror reported. "Stop it," she coolly mouthed as she continued to smile for the camera.
Some Beyoncé fans were quick to notice the "Queen Bey behavior" on Instagram. "It was like swatting a fly - no questions asked just a demand," one Beyoncé fan joked. "That girl went home, cried, and questioned every decision she's ever made," said another.
Later, Beyoncé was joined by other artists who performed at the concert, including Nicki Minaj, Jay Z, Meek Mill, Usher and Damian Marley, Yahoo reported. Kylie and Kendall Jenner were pictured watching in the audience at the charity concert, "TIDAL X: 1020 Amplified by HTC."
© Copyright IBTimes 2023. All rights reserved.