Biden Administration Brings Back Free COVID-19 Test Kits In Time For The Holidays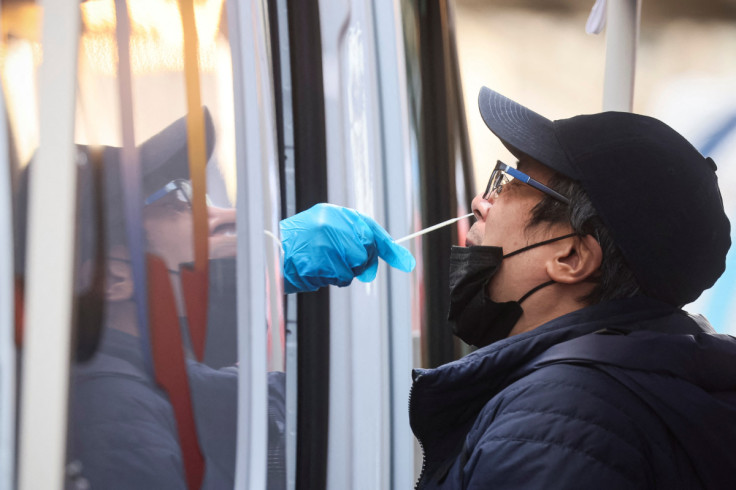 Free at-home COVID-19 tests are available again as the winter cold and flu season heats up. The Biden administration announced that households could get four rapid COVID-19 tests shipped to their home for free at covid.gov/tests.
This Biden administration ended the free at-home covid test kit program in September after Congress decided it did not need additional funding.
The White House remade the decision to reallocate funds to restart the program for a limited time as covid cases began to rise, a senior administration official told reports on a call Wednesday evening, CNBC reports.
"We feel confident that we are going to have enough tests to get through this next round, four per household, in the coming weeks," the official said.
The tests will start shipping as early as next week so that they will get to households in time for the holidays.
AAA announced in their annual year-end travel forecast that almost 113 million people are expected to travel this holiday season, making it the third busiest year since AAA began recording travel data in 2000.
CNBC reports the free COVID test kits are a part of a more extensive Biden administration COVID preparedness plan for the winter months. Federal medical teams will be made available for hospitals under extreme stress at the request of state governors. The administration is already allocating and preparing medical supplies for those in need.
The Biden administration is also attempting to increase the booster shot rollout. The Institute for Policy Research at Northwestern University released a report on Wednesday that found that most Americans still need to receive the latest COVID booster.
The New York Times COVID tracker shows that cases have increased over the last two weeks, and hospitalizations are rising. In addition, two other illnesses, the flu and RSV, are gaining momentum, causing some medical experts to predict a tri-demic going into 2023.
According to a White House fact sheet, the federal government plans to send "playbooks" to nursing home facilities to help keep all residents up to date on their vaccinations, offer resources to and care to patients, and improve overall air quality.
The fact sheet also highlighted the White House's plan to encourage hospitals to offer COVID vaccinations to patients before discharge as a form of direct outreach to vulnerable communities.
© Copyright IBTimes 2023. All rights reserved.