Biden Wants 'Immediate Action' On Gun Violence Following San Jose Mass Shooting
KEY POINTS
A public transit employee shot and killed 8 people in San Jose on Wednesday
Biden and Harris are now urging Congress for gun control legislation
Wednesday's shooting is the latest in a series of mass shooting incidents this year
President Joe Biden on Wednesday renewed calls for gun control legislation in the wake of a mass shooting in San Jose, California, earlier in the day.
In a statement after the incident, Biden said he was ordering officials to lower the flag at the White House to half-staff Friday "yet again" like in earlier instances of mass shootings in the United States. He also urged Congress to act on gun violence and "end the epidemic."
"I have the solemn duty of ordering the flag lowered at half-staff at the White House, public buildings and grounds, and military posts and embassies, just two weeks after I gave the last such order," the president said. The flag at the White House and all other federal properties will be flown at half-staff until Sunday's sunset.
"Enough," Biden said. "Once again, I urge Congress to take immediate action and heed the call of the American people, including the vast majority of gun owners, to help end this epidemic of gun violence in America."
"Gun violence is an epidemic in America. But we should not accept it. We must act," he said.
An employee of the Santa Clara Valley Transportation Authority (VTA) opened fire on co-workers at a Northern California rail yard near 100 W. Younger Ave. around 6:34 a.m. PT Wednesday.
The shooter, who was later identified as 57-year-old Samuel Cassidy, killed eight people and critically injured one person before turning the gun on himself, the Santa Clara County Sheriff's Office said.
Cassidy has previously been accused of raping and abusing an ex-girlfriend, who said he often had violent "mood swings," court records obtained by The San Francisco Chronicle showed.
"Several times during the relationship he became intoxicated, enraged and forced himself on me sexually," the woman wrote in court documents.
Vice President Kamala Harris said she has been briefed on the "horrific tragedy" and is urging Congress to take immediate action.
"I have family that lives in San Jose. I've worked for many, many years with the mayor of San Jose and that police department, and my prayers and my thoughts are with all those families that have been affected," Harris said. "The epidemic of gun violence in America must end. Congress must act."
Wednesday's shooting in San Jose is the latest in a series of mass shooting incidents across the nation.
On April 16, 19-year-old Brandon Hole opened fire at a FedEx Ground facility in Indianapolis, killing eight people before taking his own life. He was placed on immediate mental health temporary hold and had his shotgun seized from his residence before the shooting.
On March 22, Ahmad Al Aliwi Alissa opened fire at King Soopers supermarket in Boulder, Colorado, with an AR-15 style assault rifle. He killed 10 people, including Boulder police officer Eric Talley, before he was arrested. He is now charged with 115 counts.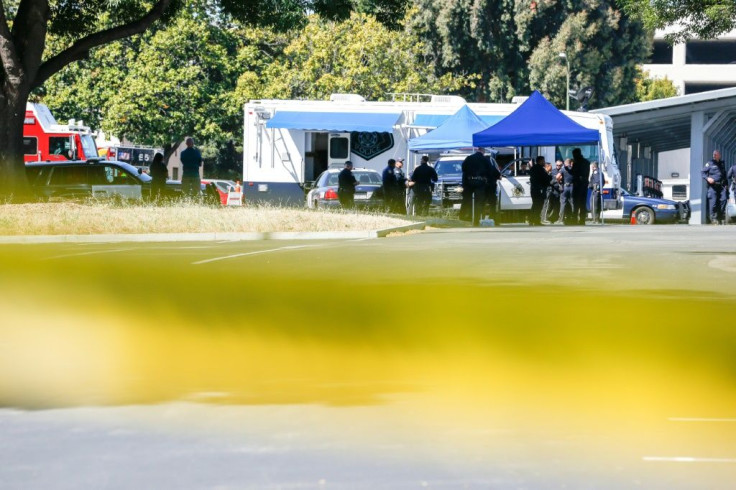 © Copyright IBTimes 2022. All rights reserved.
FOLLOW MORE IBT NEWS ON THE BELOW CHANNELS