'The Big Bang Theory' Season 10 Spoilers: Episode 2 Synopsis Released Online; What Will Happen In 'The Military Miniaturization'? [VIDEO]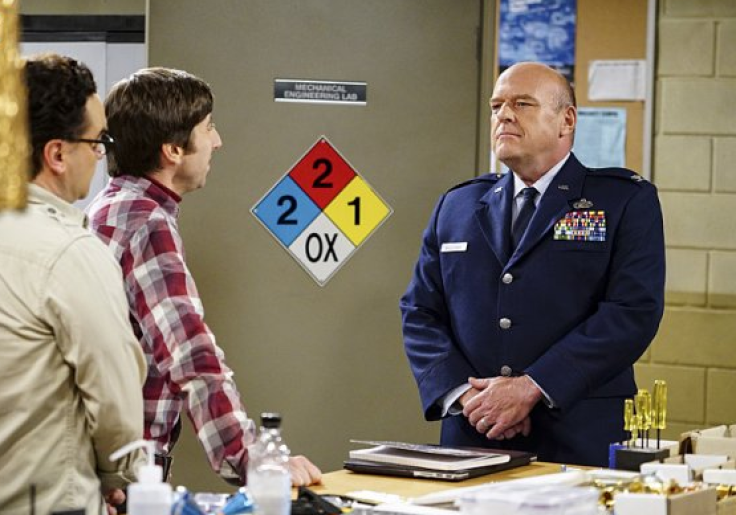 They're back! "The Big Bang Theory" gang returned to CBS on Monday night for the wedding vow renewal of the century. Penny and Leonard exchanged "I do's" in the Season 10 premiere — for the second time in order to include their friends and family. With the hectic and hilarious family gathering out of the way, fans of the long running comedy can look forward to a lot more laughs in episode 2.
For those that missed episode 1, Colonel Williams, played by "Breaking Bad" alum Dean Norris, showed up at the Wolowitz residence looking for the inventor of the quantum gyroscope. Howard (Simon Helberg) feared that the government was after him in the Season 9 finale, and Raj (Kunal Nayyar) lied to Colonel Williams to keep his friend safe. However, Colonel Williams isn't going anywhere. The episode concluded with him catching Howard by phone, who agreed to meet with him.
What does Colonel Williams want? "Big Bang Theory" viewers will find out in episode 2, titled "The Military Miniaturization." According to the synopsis, Colonel Williams is a representative from the Air Force Department of Material Command. He'll finally come face-to-face with Howard — but fans will have to wait until the episode airs to find out what they'll discuss.
Catch "The Big Bang Theory" Season 10, episode 2 when it airs on CBS on Monday, Sept. 26 at 8 p.m. EDT.
© Copyright IBTimes 2023. All rights reserved.