Bizarre Guinness World Records: Texan Woman Enters Records For Longest Fingernails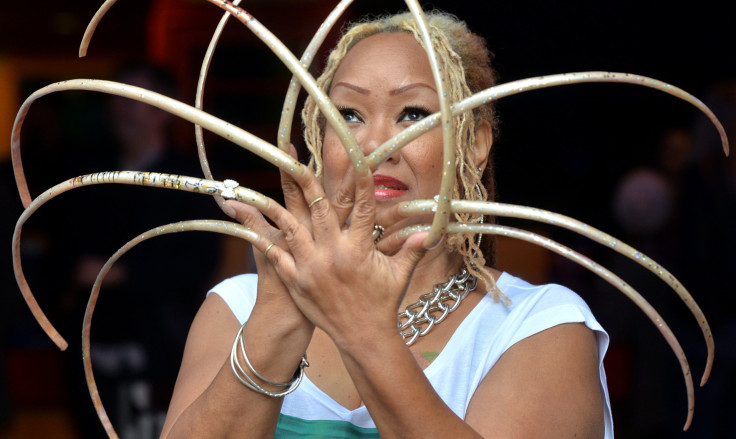 Ayanna Williams from Houston, Texas, has entered the Guinness World Records for having the longest fingernails in the world. Williams has been growing her nails for more than two decades. When Guinness measured her nails earlier this year, the combined total length was found to be 18 feet, 10.9 inches (576.4 centimeters).
Williams works as a nail technician and gives manicures to clients. It is not an easy task to take care of her precious assets as it takes around 20 hours and two bottles of nail polish for her to paint her nails. To keep her nails clean, she uses anti-bacterial soap and a nail brush. Another interesting fact is that her longest individual nail is longer than the shortest man ever, Chandra Bahadur Dangi, according to the Guinness World Records website.
However, Williams also has to follow some precautionary measures to ensure her nails do not break; she avoids washing dishes and also sleeps with her nails resting on a pillow. When she was asked whether she would cut her nails in the future, she replied: "They're a part of me so they're here to stay!" The Guinness World Record website said.
There have been other bizarre records also; here are some of them.
1) Longest eyelashes
You Jianxia from China entered the Guinness World Record for having the longest eyelash. They are 4.88 inches long and were measured in Changzhou, Jiangsu, China, on June 28, 2016, according to The Guinness World Records website.
Jianxia first noticed the lashes on her left eyelid growing in 2013 when she had gone for an 18-month nature retreat.
2) Tallest high top fade
Benny Harlem from Los Angeles, California, has the tallest high top fade, which measures 20.5 inches. It apparently takes him more than two hours to style his hair, the Telegraph reported.
3) Bikini-clad Australian women set record
In September 2007, more than 1,000 women wore bikinis on a beach in Sydney, Australia, for a group photograph to enter into the Guinness World Records, Reuters reported. One of the representatives of the committee said: "This was certainly one of the more spectacular world records that I've been invited to adjudicate on."
4) Longest kiss
The longest kiss lasted for 58 hours, 35 minutes, and 58 seconds, which was achieved by a Thai couple named Ekkachai Tiranarat and Laksana Tiranarat at an event organized by "Ripley's Believe It or Not!" It was in February 2013. They won a cash prize, two diamond rings and a Guinness World Records title.
5) Largest Underwater Wedding
In this wedding which took place underwater in 2011, 303 divers attended the marriage ceremony of Ewa Staronska and Pawel Burkowski from Poland. The event was organized at the Koparki Diving Base, Jaworzno, Poland, according to the Guinness World Records website.
6) Highest collection of crocodile-related items
In September 2015, Andrew Gray entered the world records for collecting 6,739 crocodile-related items at his home in Northamptonshire, England, the BBC reported.
© Copyright IBTimes 2023. All rights reserved.