Black Lives Matter Calls Donald Trump A 'White Supremacist': US Betrayed African-Americans With Vote, Activists Say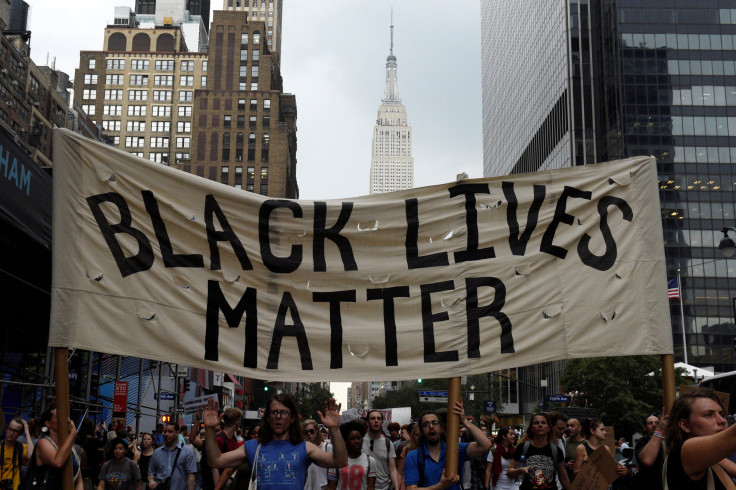 In its first official statement since Donald Trump's election as president, the Black Lives Matter Global Network said Tuesday the social justice group would continue its efforts to end police brutality and fight for greater racial equality for black Americans despite "the election of a white supremacist to the highest office in American government."
The group said the results of the election left its leaders and members collectively feeling "more than disappointed or angry—we feel betrayed." "Donald Trump has promised more death, disenfranchisement and deportations. We believe him," the statement said. "The violence he will inflict in office, and the permission he gives for others to commit violence, is just beginning to emerge."
The Black Lives Matters statement said the group needed to form an "elaborate strategy to eradicate both white supremacy and implicit bias towards it," and to fight against the "anti-blackness of American's history of that let to Trump's political movement." It said the Black Lives Matter movement planned to advance its beliefs over the next four years by utilizing more civic engagement strategies.
"Civic engagement is one way to engage democracy, and our lives don't revolve around election cycles. We are obliged to earn the trust of future generations — to defend economic, social and political power for all people. We are confident that we have the commitment, the people power and the vision to organize our country into a safe place for black people — one that leads with inclusivity and a commitment to justice, not intimidation and fear," the statement said.
Patrisse Cullors, co-founder of the Black Lives Matter movement, said at a speech to tech conference Summit at Sea attendees last week that the group's goal was to build "real political power" to combat the racially motivated remarks Trump made on the campaign train, such as promising to ban all Muslims from entering the country and calling for a Black Lives Matter protester to be "roughed up" at a Nov. 22, 2015, rally in Birmingham, Alabama. Trump's presidency was endorsed by the KKK.
Cullors said while she cannot speak for the Black Lives Matter Group in its entirety, she said her plan was to install 300 black leaders into "every branch of the government," including school boards and neighborhood councils across the country, Quartz News reported.
"There are several different tactics in our toolbox to fight for our autonomy and self determination. Our current work in this movement is a peaceful one," Cullors said.
Roughly four in 10 Americans support Black Lives Matter, while about one third of Americans who say they are familiar with the movement say they don't understand its goals, according to a Pew Research Center survey conducted between Feb. 29 and May 8. The movement was created in 2013 and rose to national prominence in the wake of the 2014 police shooting of Michael Brown. About 59 percent of black Americans believe that Black Lives Matter will ultimately be effective in bringing racial equality, while only 39 percent of white Americans said it would not inspire change.
A petition created in July asks the White House to formally recognize Black Lives Matter as a terrorist organization. It has collected 141,444 signatures.
© Copyright IBTimes 2023. All rights reserved.