Donald Trump Cabinet: Anti-Black Lives Matter Sheriff David Clarke Eyed For Department Of Homeland Security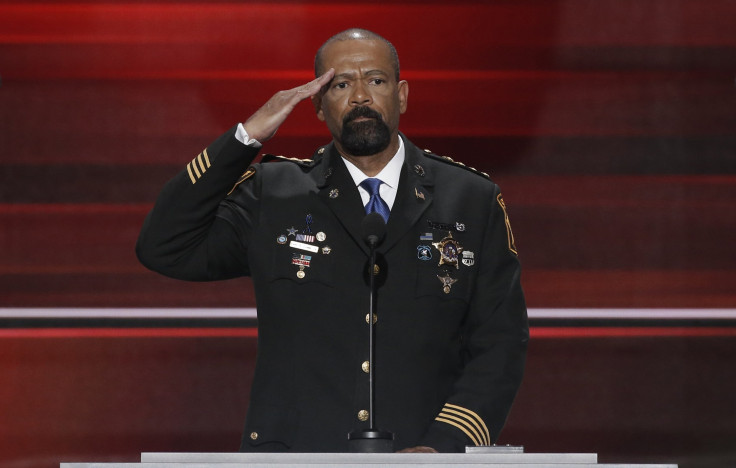 Donald Trump's ascension to the White House means one of the president-elect's top priorities will be to name a cabinet to help lead the U.S. forward. With the lingering threat of terror attacks in the U.S., the leadership of the Department of Homeland Security may take precedence for Trump.
One person reportedly under consideration for the position is David Clarke Jr., the Milwaukee County sheriff who made a national name for himself after speaking at the Republican National Convention in Cleveland this summer. The 60-year-old African-American law enforcement official's reinforced his support for Trump by describing the protesters demonstrating against the president-elect "radical anarchists" Wednesday night.
The police official's career began in 1978 and he was elected to his current post in 2002. He was recognized in 2013 as the national Sheriff of the Year for "demonstrating true leadership and courage. . . staying true to his oath, true to his badge, and true to the people he has promised to serve and protect."
But Clarke has spoken out vehemently against the Black Lives Matter social justice movement and called for "pitchforks and torches" to stop what he predicted would be a "rigged" presidential election. Now that his candidate has won, his loyalty could be repaid by Trump in the form of a cabinet appointment.
"This anti-cop sentiment from this hateful ideology called Black Lives Matter has fueled this rage against the American police officer," Clarke told CNN's Don Lemon after a civilian killed three police officers in Baton Rouge, Louisiana in July.
Those types of comments along with Trump's defense of and vow to reinstate unconstitutional stop-and-frisk policies in urban environments have some people fearing a possible police state in the country's cities that are lopsidedly populated by minorities. Trump has previously said he would be the "law and order president," which could also foreshadow Clarke being named to lead DHS.
After an audiotape leaked of Trump making lewd comments about women, Clarke used a vivid metaphor to underscore his opinion that the then-candidate's remarks were irrelevant to Republican voters. "They came out swinging, came out with pitchforks and torches to support their candidate," Clarks said last month.
Trump in the White House means his presidency is "going to be the best thing that has happened to the black community since Dr. Martin Luther King Jr.," Clarke predicted last week.
However, Clarke seemed to allay any concern over his reported consideration for the lofty position.
"There has been a lot of speculation as to what a Donald Trump win might have on my future," Clarke wrote in a brief statement Wednesday. "Let me make this clear — I am the sheriff of Milwaukee County. I will continue to be the sheriff of Milwaukee County until I am no longer the sheriff of Milwaukee County, at which time I won't be the sheriff of Milwaukee County. Anything other than that is pure speculation. I supported Donald Trump because I believed in his leadership at a time when this country needs it most."
© Copyright IBTimes 2023. All rights reserved.