Black Lives Matter And Police: In Portland, Unusual Punishment For Civil Disobedience
Protesters in Maine cut a plea deal with prosecutors.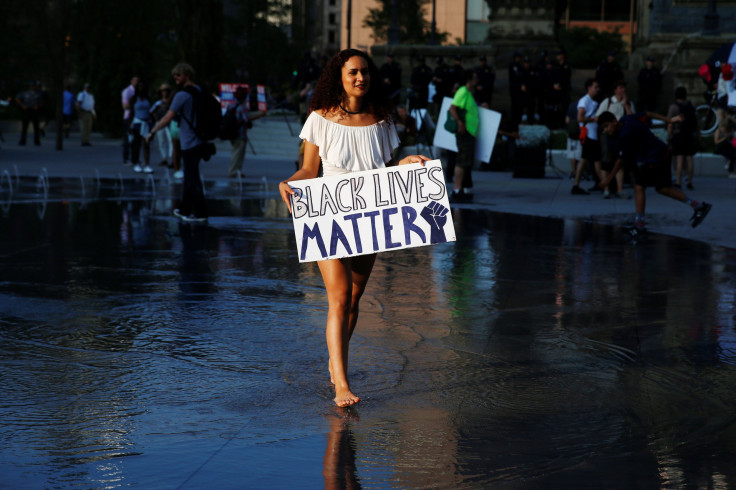 Activists in Portland, Maine, were arrested last summer after blocking a downtown intersection for several hours to protest the shooting deaths of unarmed black men in Minnesota and Louisiana. The 17 protesters struck a plea deal Thursday with the local district attorney. Their punishment? Talk with police.
The defendants are the first in the history of the state of Maine to enter a restorative justice program for civil disobedience charges, Cumberland County Deputy District Attorney Jennifer Ackerman told the Bangor Daily News. Restorative justice programs require offenders to repair the damage caused by their crimes through collaboration with victims and the community.
"With the atmosphere in this country between police and protester, and especially with this group Black Lives Matter, we're hoping that we can avoid the types of situations that a lot of other cities have dealt with," Ackerman said.
The charges against the defendants, which include obstructing a public way, failing to disperse and obstructing government administration, will be dropped if the defendants meet with police and discuss last summer's altercation and how police handled it, the local NBC affiliate reported. The deal still needs to be approved at a Jan. 26 court hearing.
Last year, Portland Police Chief Michael Sauschuck said the defendants were "ringleaders" of the protest, and "wanted to be arrested," the Portland Press Herald reported. The protest attracted around a hundred activists, as well as observers from the ACLU, to Portland's popular seaside "Old Port" during the busy summer tourist season. The action was organized by the Portland Racial Justice Congress, the Press Herald said.
The protests took place just a few days after several high-profile deaths of black men at the hands of police. On July 5, police shot and killed Alton Sterling while struggling with him on the ground in Baton Rouge, Louisiana. The shooting was caught on a bystander's cell phone camera and soon went viral. The next day police killed Philando Castile in at a routine traffic stop in Minnesota. Castile's girlfriend, Diamond Reynolds, streamed the aftermath of the shooting on Facebook Live. The officer that shot Castile was charged with manslaughter in November.
© Copyright IBTimes 2023. All rights reserved.