BlackBerry KEY2 Lite Revealed In Leaked Photo, Might Arrive Next Month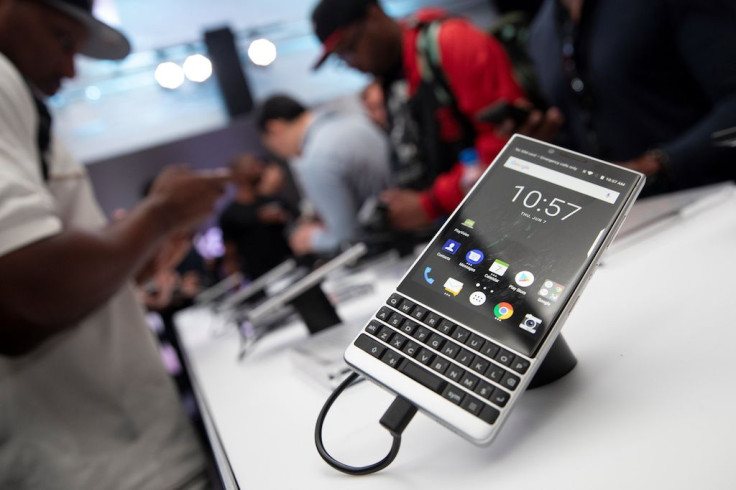 TCL Communications just released the BlackBerry KEY2 in the U.S., but it looks like the company will be bringing another Android smartphone with a QWERTY keyboard soon. A new leak apparently suggests that TCL will be releasing a "Lite" version of the KEY2.
Notorious leaker Evan Blass (@evleaks) shared a photo of the BlackBerry KEY 2 Lite on Twitter. Blass claims that the handset will arrive in red, blue and copper color options. The photo he shared only shows the back of the device, but a red accent is visible on the sides of the handset. The leaker claims that it will be called "Lite" and not "Mini" because it will have the same form factor as the KEY2. Blass notes that the device is also known internally as the BlackBerry "Luna."
The BlackBerry KEY2 Lite will most likely be a less powerful version of the standard KEY2. As a refresher, the standard KEY2 is powered by the Qualcomm Snapdragon 660 processor with 6GB of RAM and 64GB/128GB of internal storage. However, if the handset will retain the same form factor, then it's highly likely that it will come with the same physical QWERTY keyboard. The photo that Blass shared also appears to confirm that the KEY2 Lite will still have dual cameras on its back.
The leaker didn't provide any information on the BlackBerry KEY2 Lite specs, but it's being speculated that it may come with a less powerful processor and less RAM. Phone Arena also suggests that it's possible that the Lite model might also cut down the screen resolution and the internal storage. The standard KEY2 comes with a 1,620 x 1,080 resolution LCD display. Hopefully, TCL doesn't change the dual-camera setup on the Lite model, since the 12MP dual cameras on the standard KEY2 already appear to be quite decent.
Blass says that the BlackBerry KEY2 Lite might launch in late August or in early September. It's possible that the device might make its first official appearance during IFA 2018 in Berlin, which runs from Aug. 31 until Sept. 5.
The BlackBerry KEY2 Lite is also expected to be cheaper than the standard KEY2, which costs $649 for the 64GB model. Android Authority speculates that it's possible that the Lite model could arrive with a starting price of around $400. The cheaper price tag could make the handset a lot more appealing to consumers and it could finally attract those who didn't want to spend more than $600 on an Android smartphone with a physical QWERTY keyboard.
© Copyright IBTimes 2023. All rights reserved.