'The Blacklist' Season 2 Spoilers: Edi Gathegi Teases Cracks In The Cabal When Season 3 Returns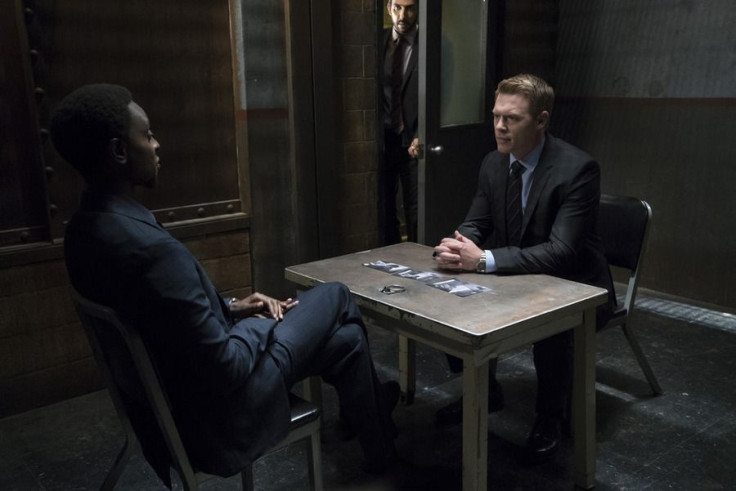 "The Blacklist" is not a show for faint of heart viewers. For three seasons, "Concierge of Crime" Red Reddington (James Spader) -- a bad guy (sort of ) working for the good guys -- has been offing people that get in his way with a smile and/or a sarcastic one liner. However, the NBC series introduced an even scarier villain in Season 3 -- Mr. Solomon (Edi Gathegi), a killer who does his work, not with a smile, but with a shrug.
Throughout Season 3, Solomon has been hunting Red and Liz Keen (Megan Boone), who was framed for murder by the international shadow organization known as the Cabal. So far, the Cabal is winning. The winter finale ended with Liz arrested and Red's plan to take down the Cabal in shambles. However, there is hope.
Edi Gathegi, the actor who plays Mr. Solomon, spoke to International Business Times about his new movie with Jessica Biel, "Bleeding Heart" -- however, Gathegi also made time to chat about "The Blacklist," which resumes airing Season 3 on Jan. 7. Gathegi talked about joining the show late in the game and also teased how Mr. Solomon's loyalty could be in question for the right price. Perhaps, Red will enlist Mr. Solomon to take out the CIA director (David Strathairn) himself. Wouldn't that be a surprise after everything that has happened with Dembe (Hisham Tawfiq).
International Business Times: What has the experience been like joining "The Blacklist" this season?
Edi Gathegi: It has been pretty tremendous. I have so many close friends that are on the show and for me to join the show in the third season has just been kind of a reunion. To hang out with Harry Lennix [who plays Harold Cooper], who I did my first play in Los Angeles with; Mozhan Marnò [who plays Samar Navabi] and I graduated at the same time and coached each other in auditions; I was in Megan Boone's first movie and we have been friends for seven years -- it's been a lot of fun to just pop into New York and do these episodes playing this delicious baddie. And James Spader is one of TV's finest. He is such a technician and master craftsman and I'm just honored to be able to share the screen with him. So, I love it and it is not too shabby that everywhere I go people are "Blacklist" fans. I had no idea it was one of the most popular shows on air!
IBT: How do you go about playing a character -- Mr. Solomon -- who is supposed to be extra scary in a show filled with cold, callous killers?
Gathegi: That is a great question because the basic premise of the show is that the baddest guy in the country has turned himself in and is, for all intents and purposes, the protagonist. He is the bad guy who the audience is supposed to love as the good guy. So, anybody that you bring on has to be more sinister, or more threatening, or something. For me, it was about getting out of my own head about it. You are going to go up against one of the best actors on TV and he is a bad guy and you are supposed to be the guy going after him, so it was about not even doing much. Just understand that your character is hired by this secret organization to do a task and go about it with the enthusiasm of anybody who was hired to go to a job that they love!
IBT: Mr. Solomon has now been tortured by the CIA director in the name of keeping the Cabal under wraps. Could anything ever make him question his loyalty?
Gathegi: I can't really say too much, but Mr. Solomon is more or less a mercenary. I think at a certain point his services could be sold to the highest bidder. In theory -- I'm not saying anything has happened or is going to happen -- when they sit there and the Director is torturing him for show to keep their alliance under wraps, I think Mr. Solomon could easily dispatch with him for any number of reasons, either on directives from the leaders of the Cabal or for his own personal reasons. I think that the world is probably open in terms of who meets their untimely demise.
"The Blacklist" Season 3 returns to NBC on Jan. 7 at 10 p.m. EST.
© Copyright IBTimes 2023. All rights reserved.