Blake Lively Shares Disadvantage Of Not Drinking At Parties: 'A Little Alienating'
KEY POINTS
Blake Lively created Betty Buzz because she doesn't drink alcohol but likes to party
The "Gossip Girl" alum doesn't drink alcohol because she doesn't like its effects
Lively said she enjoys mixing drinks at her parties and even shared some mixing tips
Blake Lively doesn't drink alcohol and feels estranged at parties for not drinking, so she founded her own line of non-alcoholic beverage.
Lively may not be into drinking, but she's very social. The Betty Buzz founder spoke to reporters about why she doesn't drink alcohol and what made her decide to start her own line of non-alcoholic mixers.
"I don't drink because I don't like the effects of alcohol, but I like being a part of it," the "Shallows" actress was quoted by People as saying. "I like being social. I like people coming together. I found that sometimes not drinking, the thing that was interesting was that it was a little alienating, because you don't feel — and maybe it's just in your own head — but you just don't really feel a part of it."
Since Lively wants to party and doesn't drink alcohol, she created Betty Buzz, which includes five flavors of bottled beverage that can be mixed with liquor or can be drunk on their own. The five flavors are tonic water, sparkling grapefruit, Meyer lemon club soda, sparkling lemon lime and ginger beer.
"When we first started talking about this company, one of the conversations that came up was like, 'Are we going to be pushing a boulder up a hill because you don't drink and mixers are made to mix with alcohol? I mean, that's the name of them," Ryan Reynolds' wife explained. "So are you going to have credibility in this space as somebody who doesn't drink?' And I was like, 'Yeah, because I feel like I'm somebody who really likes the flavor, that's it for me.'"
The "Gossip Girl" alum added that she is often the mixologist at her parties even if her spouse is the owner of Aviation Gin. She enjoys making mean cocktails for others and even shared one tip she picked up on — to add one or two "drops" of liquor to a mixed drink like one would do on bitters to give it flavor without the alcohol experience.
She also suggested using a dab of liquor to moisten the rim of the glass before salting it — as one would do with tequila for a virgin margarita — because doing so would keep the salt stay and one would not get real alcohol content, just the taste of it.
In related news, Lively recently worked with Taylor Swift for the latter's music video for "I Bet You Think About Me" released Monday. Lively directed the video showing Swift crashing the wedding of her ex-boyfriend played by "War Dogs" star Miles Teller.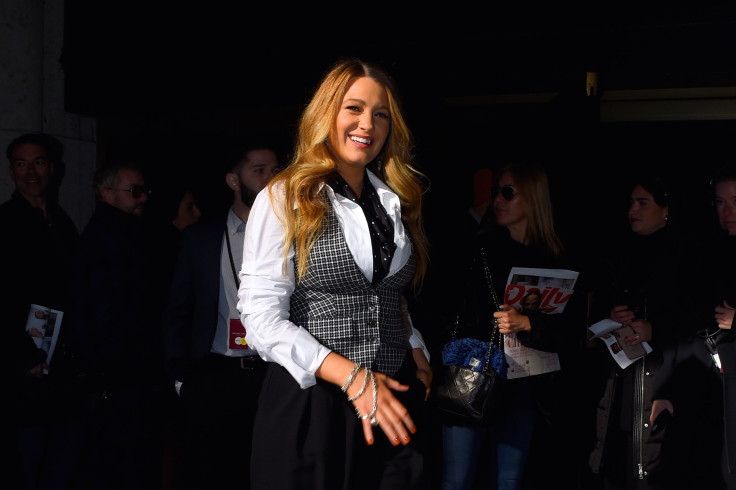 © Copyright IBTimes 2023. All rights reserved.