Blake Shelton And Gwen Stefani Get Flirty During Her Guest Spot On 'The Voice' Season 10 Battle Rounds [VIDEO]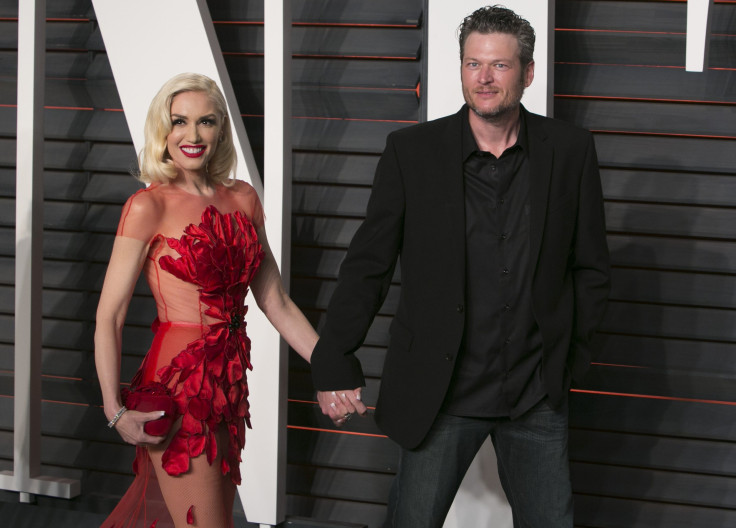 "The Voice" fans were delighted Monday when coach Blake Shelton brought on the star power of his girlfriend to help get his Season 10 team in shape for the battle rounds. Gwen Stefani, who was a Season 9 coach on the NBC reality competition, showed up to lend her musical expertise, despite not knowing the most about country music.
During the broadcast of the third night of battle rounds for Season 10, celebrity guest mentors arrived to aid coaches Adam Levine, Christina Aguilera, Pharrell WIlliams and Shelton. While Stefani showed up to help her boyfriend's team power through to the knockout rounds, support came from all over the music industry. Patti LaBelle aided Team Xtina, Tori Kelly helped out Team Adam and Sean "Diddy" Combs lent his best advice to Team Pharrell. While the guest mentors portion of the show is always enjoyable to fans, Stefani and Shelton's relationship gave the battle rounds of Season 10 an extra dose of insider fun.
In the video below, the coach introduces two of his team members, Adam Wakefield and Jared Harder to Stefani. From there, Shelton immediately addresses the elephant in the room. Although the "Used to Love You" singer is renowned in the music business, her experience with country songs is somewhat lacking. When he calls out his girlfriend for not being a country singer, she simply shruggs it off and mentions that she's learning. Unable to resist, the 39-year-old singer also joked that her presence is welcomed because "she's hot."
In another video, the duo are seen sharing some alone-time in between mentoring sessions. In it, Shelton seems to be exhibiting some boyish excitement as he showers Stefani with compliments about her musical prowess before pretending to be giddy that she let him touch her arm. All in all, it was a surprisingly chaste exchange between the very public couple, but they've previously exhibited a commitment to keeping their budding romance separate from their professional lives on the show.
Shelton and Stefani announced that they were dating in November 2015 after their respective divorces. Most recently, their coupling has been brought up with regards to Stefani's latest album "This is What The Truth Feels Like," which was previously reported to contain deeply personal songs about her split from Bush frontman Gavin Rossdale and the subsequent new romance with Shelton.
"The Voice" Season 10 battle rounds continue Tuesday at 8 p.m. EDT on NBC.
© Copyright IBTimes 2023. All rights reserved.