Blake Shelton Says 2015 CMA Awards Will Be 'Awkward' Because Of Miranda Lambert Divorce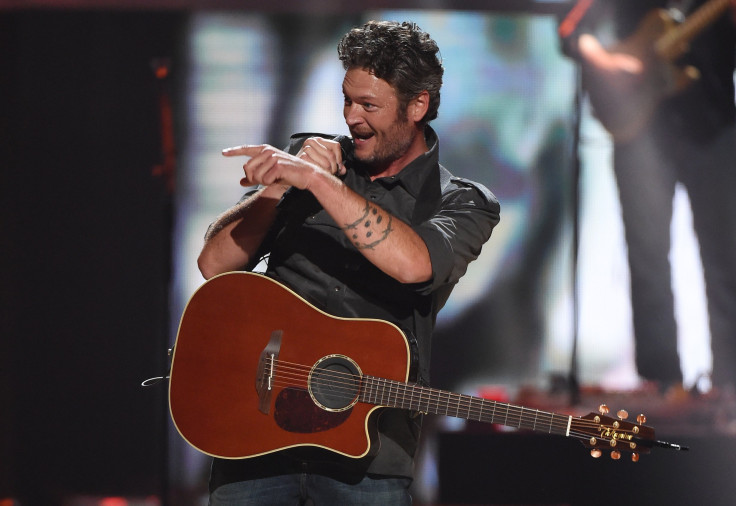 One of the biggest nights in country music is rapidly approaching. The 49th annual Country Music Association (CMA) Awards takes over ABC on Nov. 4 with live performances and much more. However, for singers Blake Shelton and Miranda Lambert, the night will be a firestorm of controversy surrounding their recent divorce, which Shelton says he's more than ready to take on head first.
According to People, the 39-year-old country crooner appeared on "Late Night with Seth Meyers" on Oct. 27 to discuss, among other things, his nominations at this year's CMA Awards. It wasn't long before the judge on NBC's "The Voice" confessed that he's mentally preparing to laugh off jokes about his split with the "Little Red Wagon" singer.
"This year is going to be awkward at the CMAs, speaking of jokes," he said. "[Country music] is such a family. Everybody there is friends, you know? There's gotta be a joke about me and Miranda. [Co-host] Brad Paisley is not doing his job if he doesn't look down there and go, 'Haha!' I mean, he's gotta do it."
As previously reported, both Shelton and Lambert will attend the live event on Nov. 4 separately, but are both prominent fixtures in the country music community. In fact, the reason that they'll be at the event is because they're nominated for a slew of awards respectively. Shelton has two nominations this year while his ex has a whopping four, including the highly coveted Entertainer of the Year award.
It seems that, at least Shelton, isn't fool enough to think that the biggest night in country music would be able to avoid talking about the industry's largest public story going on right now. The only question now is how hard will hosts Paisley and Carrie Underwood rely on this topic to fill time during the show. Luckily for the former couple, odds are good the night will be far too packed with awards and special guest performances to bother letting the audience marinate on the split for too long
Fans will just have to tune in to the live broadcast of the big night on Nov. 4 at 8 p.m. EST on ABC.
© Copyright IBTimes 2023. All rights reserved.