'Blindspot' Cast And Creator Martin Gero Tease 'Jeller' Romance, Season 1 Finale And Season 2 Plans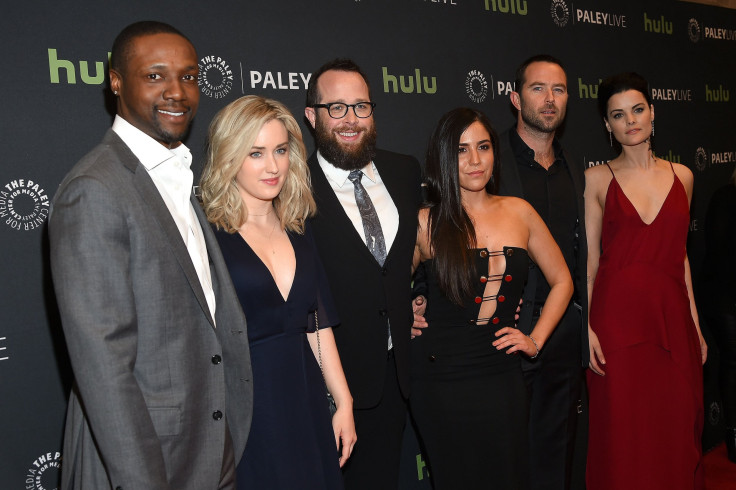 "Blindspot" fans have a few exciting episodes coming up! Jaimie Alexander (Jane Doe) and her co-stars all ditched their FBI gear to attend PaleyLive presented by The Paley Center for Media in New York Monday where they dished on the remainder of Season 1, as well as teased what's in store for Season 2.
While on the red carpet, Alexander — who sported some of her "Blindspot" tattoos — told International Business Times that her character goes through a "rollercoaster of emotions" in the coming episodes. "She finally finds out, I should say gets confirmation about who she is, which is heavy," Alexander explained. "And she struggles with certain things that end up happening … mainly there are some characters that are going to die and it's the worst thing ever."
Of course Alexander wouldn't reveal which characters bite the dust this season, but promised that it's not who fans suspect it will be. "I cried when I read [the script], but it's magnificent. So [Jane's] journey is just getting started," she said.
Show creator Martin Gero, who attended the event with the cast, also remained tight-lipped about the impending death. "Listen, a lot of people have died on the show and people will continue to die," he told IBT. "Some big characters, some small characters."
While fans may want to have Kleenex nearby during the next few episodes, the cast did reveal that "Jeller" shippers haven't seen the last of Agent Weller (Sullivan Stapleton) and Jane's complicated relationship. During recent episodes of the show, Jane has been getting closer to her ex-fiancé Oscar (François Arnaud) and Weller has been trying to move on with Allie (Trieste Kelly Dunn). However, Gero said fans shouldn't give up on Jane and Weller trying to figure things out between them.
"Don't lose hope Jellers, don't lose hope! It's a regular show, it kind of goes back and forth, up and down," he said. "If they also got together right away that would be boring, so, we're going to ride that wave."
Stapleton added, "[Weller's] trying to help this poor woman find out who she is, and also the fact that she could be the girl who went missing in Weller's life a long time ago … that brings us closer together."
As for what's in store for the big Season 1 finale, Stapleton teased that it's going to be "very hard-hitting." "Things become a bit clearer and things do unravel. It's really good, it's exciting," he said.
Gero told IBT that he's not only excited about the finale, but the last three episodes. "It's stuff that you would sometimes save for your last episode," he dished. "The last three episodes have massive, massive game-changing events so we're excited to have people see that."
On Twitter last week, Gero revealed to fans that they were already working on Season 2. The creator told IBT he couldn't reveal too many details about next season because it would give away the Season 1 finale but shared that there is a "bit of a shift" in the coming episodes that will carry over.
"There are some changes that are going to happen next season," he said. "But for us, next season is almost more important than the first season [because] it's really when a show can plant it's flag and say, 'Hey, we're here to stay.' So the story that we have for Season 2 is pretty enormous and really exciting."
"Blindspot" airs Mondays at 10 p.m. EDT on NBC.
© Copyright IBTimes 2023. All rights reserved.