Blizzard 2016 What's Open, Closed? Status Of Flight Cancellations, Amtrak, Mail Service And Other Winter Storm Jonas Updates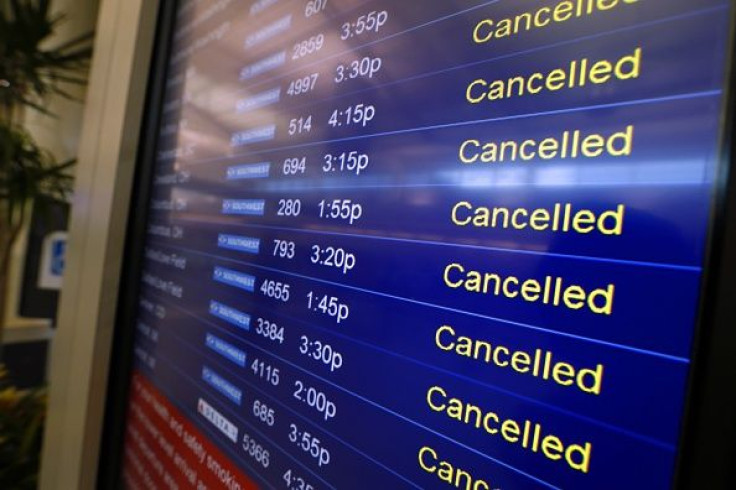 As a massive winter storm touches down along the Eastern Seaboard on Friday, thousands of would-be travelers may find themselves stuck at airports waiting for clearer skies. Even before the first flakes landed on cities from Washington to Boston that are expected to get pummeled with snow, thousands of flights were canceled in preparation.
As of Friday afternoon, a total of 3,288 flights had been canceled and another 5,536 were reported delayed, according to FlightAware.com. Saturday travel looked no better, with 3,458 flights canceled in advance. Other travel options looked less and less appealing as the storm began to set in: At least five people died in traffic accidents in North Carolina and Tennessee. Amtrak was running on a modified schedule in the Northeast, but the U.S. Postal Service hadn't canceled service as of Friday afternoon.
The Friday flight cancellation tally was up from just that morning, when 1,800 flights were canceled in preparation for the blizzard. In cities like Baltimore and Washington, snow had already begun falling while in Charlotte, North Carolina, one of the country's busiest airport hubs, flights were grounded due to ice concerns.
Still, things could be worse for travelers who hoped to jump on a flight before the cancellations. While airports readied snow removal equipment to respond to the onslaught of snow, the airlines themselves began offering change-fee waivers to encourage passengers to rebook their travel plans.
Here's what the airlines are doing for their customers; check the websites for complete offers:
Alaska Airlines is offering change and cancellation fee waivers for affected travelers. The airline will also waive the extra costs for a change in flight.
Delta Airlines is offering flight changes if the ticket is rebooked before Jan. 27.
Frontier Airlines is offering flight changes if the new tickets are booked before Jan. 31.
JetBlue customers can rebook through Jan. 29.
Southwest Airlines customers can rebook their canceled flights on the company's website.
United Airlines customers can rebook in the same cabin if their flight was canceled.
American Airlines is offering fee waivers for a long list of Northeast cities along with Kentucky and Arkansas airports.
© Copyright IBTimes 2023. All rights reserved.