Bloomberg Ends Campaign, Throws Support Behind Biden
KEY POINTS
Bloomberg is out after securing only 45 delegates on Super Tuesday
The former mayor will now back Biden, who he said has the "best shot" to beat Trump
This is bad news for Sanders, as moderate Democrats fall into line behind Biden
Former New York City Mayor Michael Bloomberg announced Wednesday morning that he would be ending his bid for the Democratic nomination for president. This comes after a poor showing on Super Tuesday, where the candidate won just 45 pledged delegates.
In a statement, Bloomberg said that he would be putting his full support behind former Vice President Joe Biden. Biden racked up big wins on Super Tuesday, claiming hundreds of delegates to effectively propel him into front-runner status for the Democratic ticket.
"I've always believed that defeating Donald Trump starts with uniting behind the candidate with the best shot to do it. After yesterday's vote, it is clear that candidate is my friend and a great American, Joe Biden," Bloomberg said.
Bloomberg has long maintained that his only desire is to see President Donald Trump fail to secure a second term, and as such would be willing to throw his support behind whoever becomes the Democratic nominee.
Gaining Bloomberg's support is undoubtedly a major victory for the Biden campaign. Bloomberg, worth an estimated $60 billion, set himself apart from other Democratic candidates by funding his campaign entirely out of his own pocket. In his short three-month candidacy, the former mayor spent an incredible $550 million on political advertising, with $224 million alone spent in Super Tuesday states.
Since throwing his hat into the ring, Bloomberg had surged into the third spot, from barely registering on the polls. Although his aggressive campaigning ultimately did not pay off, it is hard to ignore how effective it was.
This is less than good news for Sen. Bernie Sanders, I-Vt., who, despite a strong Super Tuesday showing, is now trailing Biden by more than 70 delegates. With two other candidates having dropped out over the past weekend – former South Bend Mayor Pete Buttigieg and Minnesota Sen. Amy Klobuchar – the moderate Democrat vote is rapidly consolidating behind Biden, a trend solidified by Bloomberg's exit and endorsement.
Now it remains to be seen whether Sen. Elizabeth Warren, D-Mass., will opt to remain in the race, potentially drawing away progressive support from Sanders in the process, despite a poor showing on Super Tuesday.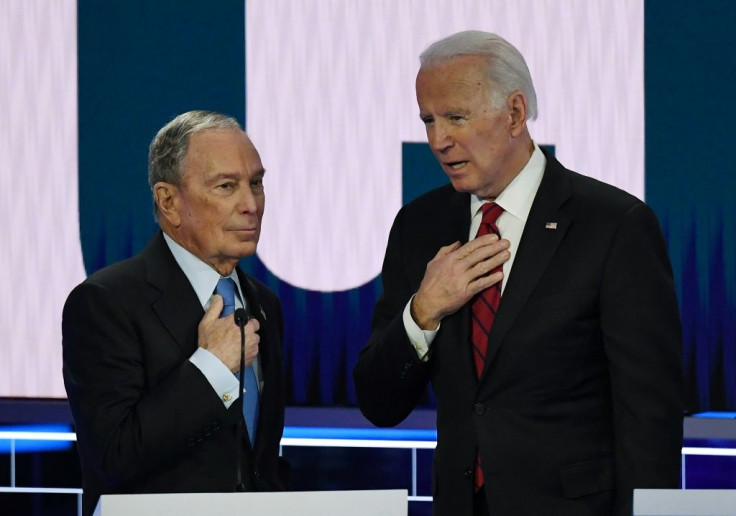 © Copyright IBTimes 2022. All rights reserved.
FOLLOW MORE IBT NEWS ON THE BELOW CHANNELS