Bloomberg Presidential Campaign: Democratic Candidate Pumps Money Into Attacking Trump On Coronavirus, Economy In TV Ads
Democratic presidential candidate Michael Bloomberg's campaign continues to be defined by big spending on ads and media exposure. In the latest move, Bloomberg has purchased three minutes of time on NBC and CBS, which he will use to address the coronavirus outbreak and its effect on the economy.
The "Address to the Nation" will air Sunday at 8:30 p.m. ET.
In the video, Bloomberg speaks into the camera for the entire three minutes, projecting a steady leader that could lead the U.S. through the coronavirus crisis smoothly, while also taking Trump to task for his heavily criticized handling of the outbreak.
"At times like this it is the job of the president to reassure the public that he or she is taking all the necessary steps to protect the health and well-being of every citizen," Bloomberg said.
It is unknown how much the Bloomberg campaign spent on the airtime, but estimates put the cost between $1.25 million to $3 million. To date, the former mayor of New York City has spent $500 million on his presidential campaign, a significant portion of which has gone toward buying ads on various platforms.
"President Trump is effectively managing the coronavirus situation and has placed the United States ahead of the curve in its comprehensive response," Trump spokesman Tim Murtaugh said in response to Bloomberg's statements. "Mike Bloomberg is shamelessly politicizing the issue and only further exposing himself as an unserious candidate. He's a joke."
After passing on earlier primaries and caucuses, Bloomberg will finally be on the ballot in the 14 states voting on Super Tuesday on March 3. Roughly one-third of all national delegates will be awarded on Super Tuesday.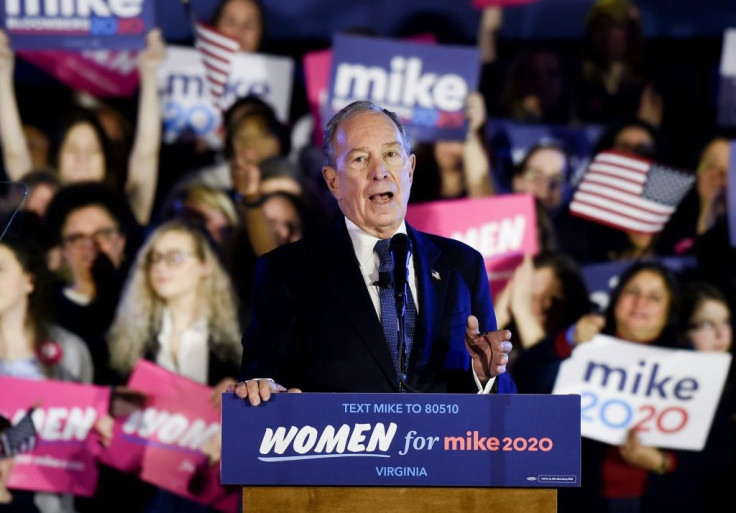 © Copyright IBTimes 2023. All rights reserved.