BMI's Billion-Dollar Milestone Rests On A Mountain Of Microtransactions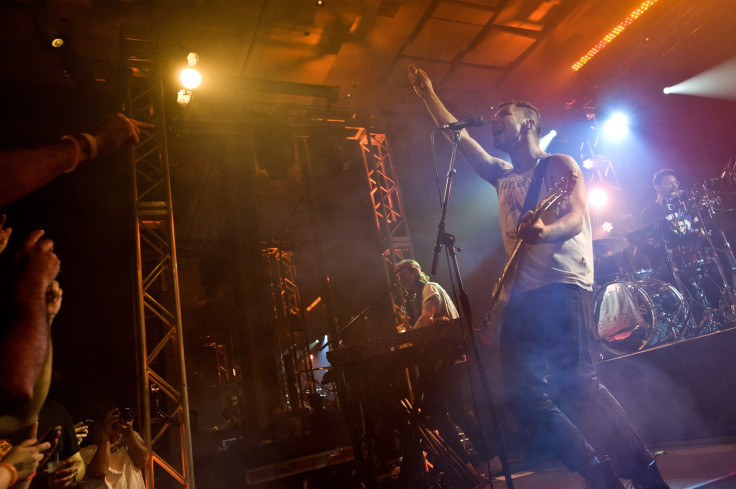 As businesses, people and places around the world compile their own soundtracks, the songwriters responsible for them are seeing a positive return. Broadcast Music Inc., better known as BMI, announced Thursday that it took in more than $1 billion in revenue for the first time. The nonprofit performing-rights organization paid out more than $877 million to its more than 700,000 affiliate songwriters and publishers, who include stars like Maroon 5's Adam Levine, Mariah Carey and Pitbull.
"These are phenomenal results for BMI," President and CEO Mike O'Neill said in a statement. "We will continue to work hard on behalf of the more than 700,000 affiliates we have the privilege to represent, not only to make sure they can continue to earn a living doing what they love."
The organization, which along with ASCAP represents more than 90 percent of the professional songwriters in the United States (two newer organizations, SESAC and Global Music Rights, represent the rest), collects money from licenses it grants to businesses that perform or play members' compositions. That extends from streaming services like Apple Music and Spotify to traditional media channels like radio and television all the way down to small businesses like bars and coffee shops that play music on speakers.
For a second consecutive year, the largest chunk of BMI's revenue, $484 million, came from media licensing for songs played during radio and television broadcasts. General licensing, the term used for licenses granted to small businesses like restaurants and gyms, rose to a record $137 million. The company said it added more than 14,000 businesses to an already enormous portfolio.
The second-largest share of revenue, international licensing, dipped 5 percent from last year's total, to $292 million, but BMI downplayed that slide, blaming a $28 million drop on unfavorable exchange rates created by a strong dollar.
Digital Erupting
Thanks to a sharp increase in streaming revenues, BMI also became the first performing-rights organization to earn $100 million from digital sources. Digital revenues leapt 65 percent in 2014, the largest category increase BMI saw during the fiscal year. Over the past several years, digital revenue has gone from being a curiosity or an afterthought to a major source of income: That $100 million accounts for more than 11 percent of the $877 million BMI paid out to its members. As recently as 2010, digital revenue amounted to just 3 percent of revenue, according to the New York Times.
It has also become a mind-bending accounting responsibility. BMI said that of the 600 billion performances it accounted for during the most recent fiscal year, 500 billion were digital.
Yet despite the digital gains, a number of industry figures feel that songwriters have been poorly served by the rise of digital music consumption, with those billions of digital transactions yielding infinitesimal returns for individual songwriters. While streaming services like Spotify, YouTube and others pay a substantial amount of their raw revenues to rightsholders, the gap between what artists make and what songwriters make is wide. In one highly publicized example, American hip-hop artist Aloe Blacc, who co-wrote the hit "Wake Me Up" with Swedish DJ Avicii, wrote in an editorial for Wired than 1 million streams of that song on Pandora earned him just $90.
Late last year, Marty Bandier, the CEO of the world's largest music publisher, Sony/ATV, wrote an internal memo in which he called the songwriting and publishing royalties paid out by services like Pandora "totally unacceptable."
© Copyright IBTimes 2022. All rights reserved.
FOLLOW MORE IBT NEWS ON THE BELOW CHANNELS