Bobbi Kristina Brown Update: Atmosphere Was Like 'A Circus' At Burial Of Whitney Houston's Daughter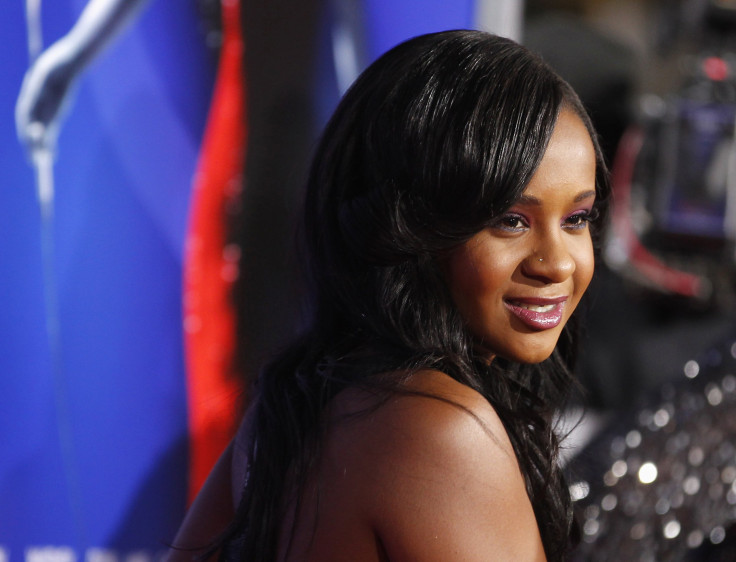 A feud between the Brown and the Houston families created the atmosphere at the burial of Bobbi Kristina Brown like "a circus," a member of the Brown family told People magazine. The two families said their final goodbyes to the 22-year-old Monday, laying her to rest next to her late mother Whitney Houston in Fairview Cemetery in Westfield, New Jersey.
Security guards at the burial kept mourners away as the ceremony was private and only allowed family and close friends. Fans and media lined the streets hoping to get a glimpse of the families as they made their way to the cemetery.
"There were security guards who stood between everyone to make sure that no one got out of the control," the source told People.
The burial came two days after the highly dramatic funeral service at St. James United Methodist Church in Alpharetta, Georgia, where Bobbi Kristina's aunt Leolah Brown walked out in the middle of the service when Whitney's sister, Pat Houston, began speaking.
The two families, who have been fighting since Bobbi Kristina's hospitalization, disagreed on most funeral arrangements. The only thing they agreed on was the pink-and-purple color scheme for the funeral, the source told People. "Those were Krissy's favorite colors," the source reportedly said. "Her bedroom wall was in those colors. We all agreed we should honor Krissy."
Bobbi Kristina's family had come under fire early this week after a photo of her lying in a casket was sold to media for over $100,000. The Browns and the Houstons have been blaming each other over the leaked photograph.
Meanwhile, Whitney's ex-bodyguard, Mark Behar, told Hollywood Life Monday that Bobbi Kristina's father, Bobby Brown, is finding it difficult to cope with the loss of his daughter and was so saddened that he was talking to himself.
"He seemed really out of it and was mumbling to himself and walking around like he was lost. Many of the guests were even concerned about him. It was a very somber mood today," Behar reportedly said. "Bobby is obviously and understandably struggling."
Bobbi Kristina's boyfriend, Nick Gordon, who was barred from attending the funeral, honored his late girlfriend in a different way. "Nick went to the beach with me on Friday during the services," Michelle, Gordon's mother, told People, referring to their trip to Daytona Beach, Florida. "He said the beach was always their favorite place to go, so he decided that he would honor her at a place that they both loved."
Gordon, who is a person of interest in Bobbi Kristina's case, was not allowed to visit her during her treatment at several facilities after she was found unresponsive in a bathtub on Jan. 31. Police are reportedly investigating Gordon after Bobbi Kristina's family filed a lawsuit against him, accusing him of abusing her and stealing her money.
© Copyright IBTimes 2023. All rights reserved.