Bobby Jindal 'Giuliani Moment' Pushes Trump Off TV After Louisiana Shooting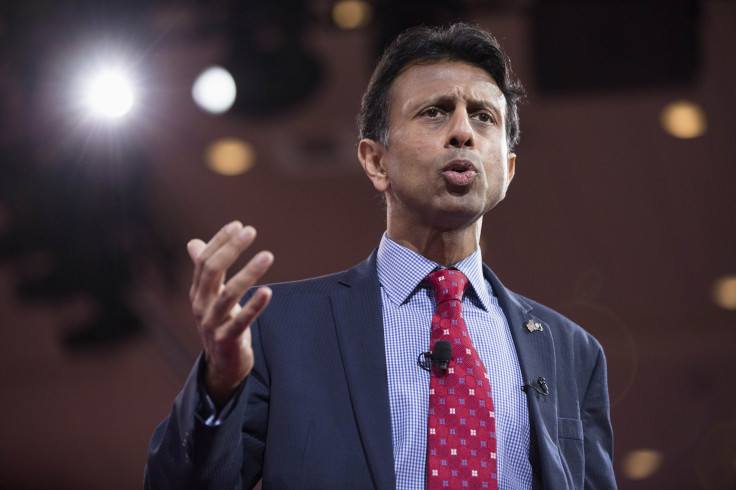 It took a national tragedy to get presidential candidate and Louisiana Gov. Bobby Jindal back into the news cycle and wrench the cameras away from fellow Republican contender Donald Trump.
Jindal spent Friday morning giving interviews in response to a shooting on Thursday at a movie theater in Lafayette, Louisiana. The gunman, identified as John Russel Houser, 59, killed himself after fatally shooting Jillian Johnson, 33, and Mayci Breaux, 21, authorities said. Nine others were injured, including one person who reportedly remains in critical condition.
"Whenever we see these or hear about these senseless acts of violence, it makes us both furious and sad at the same time," Jindal told reporters at a briefing after arriving in Lafayette. Jindal refused to answer questions about gun control, a recurring subject in the wake of several mass shootings in recent years, including a previous killing at a movie theater in Aurora, Colorado, in 2012.
It's a kind of "Rudy Giuliani" moment for Jindal: In a position of authority, he has an opportunity to pose as a leader in crisis after the violence has ended and the assailant has been killed. (Guiliani was thrown into the national spotlight as mayor of New York City during the terror attacks of Sept. 11, 2001. It boosted his profile sufficiently to later mount a presidential campaign in 2008.)
The tragedy places the Louisiana governor back in the news cycle, however briefly, after spending most of his time on the sidelines of presidential campaign coverage since announcing his candidacy June 24.
Bobby Jindal Presidential Candidate Profile | InsideGov
Jindal was mocked early on for an underwhelming announcement video in which not even his own children appeared excited to hear he would be pursuing a White House bid.
But most significantly, it's the first moment in weeks that any candidate has displaced the massive presence of ex-reality TV star and expert media manipulator Donald Trump from news coverage.
International Business Times reported earlier this week that Trump has dominated that coverage, from his former home as a pundit at Fox News to the evening broadcasts, where Trump ate up almost 40 percent of networks' overall campaign coverage. Ever since calling Mexican immigrants "rapists" and "killers" during his presidential launch in June, Trump has fed the media with fresh material every other day.
On Thursday, Trump upped the ante once more by making a high-profile visit to the U.S.-Mexico border, wearing a white hat bearing his campaign slogan, "Make America Great Again."
All the hype has apparently paid off, with experts and journalists noting Trump's surge in the polls following the media attention. (A Washington Post-ABC News poll released this week showed Trump leading the GOP pack, with support from 24 percent of Republican voters.)
Until now, Jindal, by comparison, has been shouting into the ether.
© Copyright IBTimes 2023. All rights reserved.