Bobby Womack, Legendary Soul Singer And Songwriter, Dead at 70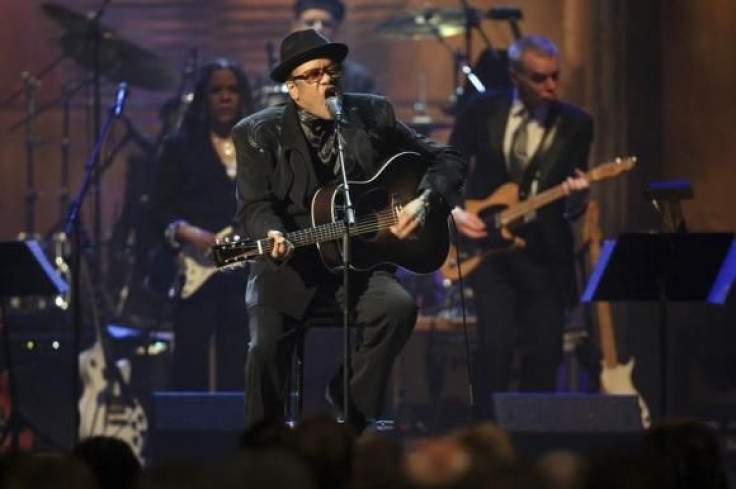 U.S. soul singer, songwriter and guitarist Bobby Womack, whose music was covered by The Rolling Stones, among others, died Friday at age 70. A representative of his label XL Recordings confirmed the star had died, but said the cause of his death was unknown.
Womack was suffering from colon cancer at the time of his death, according to Billboard. He had struggled with other health problems throughout his life, including diabetes, pneumonia and early signs of Alzheimer's disease, TMZ reported.
He was inducted into the Rock and Roll Hall of Fame in 2009, as noted at the time by Rolling Stone magazine. "My very first thought was -- I wish I could call Sam Cooke and share this moment with him," Womack said. "This is just about as exciting to me as being able to see Barack Obama become the first black president of the United States of America! It proves that, if you're blessed to be able to wait on what's important to you, a lot of things will change in life."
After rising in the gospel-music community in the 1950s, Robert Dwayne "Bobby" Womack became an important figure in the rhythm-and-blues genre. His best-known hits include "Lookin' For A Love," "Woman's Gotta Have It" and "That's The Way I Feel About 'Cha."
Womack, whose parents were both musicians, began his music career as a member of Curtis Womack and the Womack Brothers with his siblings Harry, Curtis, Cecil and Friendly Jr.
Sam Cooke signed the group to his SAR Records in 1960, and it released a bunch of gospel singles. After changing its name to The Valentinos, the group transitioned to a more nonreligous, pop-and-soul approach, according to Rolling Stone.
In 1964, a month after The Valentinos released its hit "It's All Over Now," The Rolling Stones released its version of the tune, which reached No. 1 on the U.K. singles charts, Rolling Stone magazine noted.
A few months after Cooke died in 1964, Womack married Cooke's widow, Barbara Campbell.
Womack went on to become a session musician, playing guitar on quintessential albums such as the Aretha Franklin masterpiece "Lady Soul."
In 1968, Womack released his first solo album, "Fly Me to the Moon," and he put out several key R&B albums, including 1972's "Across 110th Street" and "Understanding," 1973's "Facts of Life" and 1974's "Lookin for a Love Again."
Womack made a comeback in 1981 with "If You Think You're Lonely Now."
Throughout most of the '80s, Womack struggled with drug addiction, Billboard said, and he reportedly entered a rehab center for treatment.
Two years ago, he made another comeback with his first album in more than 10 years, "The Bravest Man in the Universe." "You know more at 65 than you did at 25. I understand the songs much better now," Womack told Rolling Stone back then. "It's not about 14 Rolls-Royces and two Bentleys. Even if this album never sells a nickel, I know I put my best foot forward."
At the time of his death, Womack was in the process of recording another album that was tentitively called "The Best Is Yet to Come" and planned to include guest performances by Rod Stewart, Stevie Wonder and Snoop Dogg.
© Copyright IBTimes 2023. All rights reserved.