Body Cam Video Of Police Breaking Man's Leg Causes Stir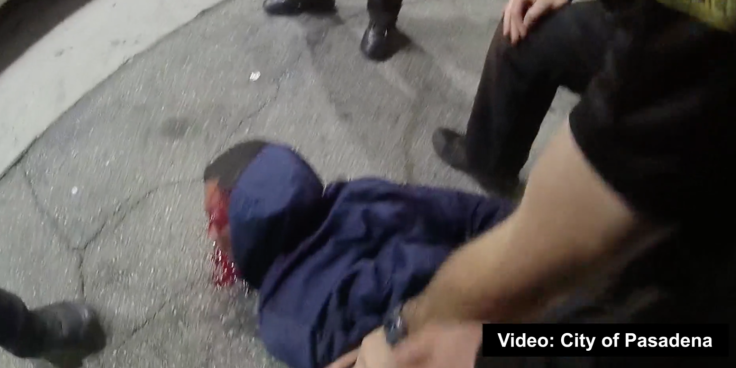 Police in Pasadena, California, on Friday released a body camera video which showed a violent confrontation between two officers and a suspect that resulted in a broken leg for the suspect. The NAACP has called the officers actions "reprehensible" and "inhumane," according to KCBS-TV.
The City of Pasadena released six videos showing one of the officers hit the man with a baton and bloody his face during an arrest on Nov. 9. The two officers were not named. The videos then show a number of officers respond to the scene. The city released the videos after it received criticism from how the arrest was handled — a cell phone video captured the arrest and it was shared in early December on social media. Before the video was shared, the incident wasn't widely known.
"While the City is not obligated or required to release such the recordings … I believe doing so is in the best interest of the City and that of the public," said Pasadena City Manager Steve Mermell in a statement last week.
The man arrested that night was Christopher Ballew, 21, of Altadena, California. Police said they stopped him for "multiple traffic violations," according to Pasadena Now, including not having a front license plate and overly tinted windows. Ballew was arrested on suspicion of assault on a peace officer, as well as several unspecified misdemeanors. The Los Angeles District Attorney's Office has decided not to press any charges against Ballew.
"We must hold [city officials] to task and get the justice and transparency needed for all out young people if [sic] color this … incident was inhuman and wrong point black period," said the Pasadena chapter of the NAACP about Ballew, who is black, in an all capitals in its Facebook post.
The city is investigating the incident.
"Currently, the whole incident is under review, so there is no timeline for how long that will take. There is no conclusion right now," said city spokesperson William Boyer to reporters Friday.
Ballew has retained Pasadena lawyer John Burton.
"Why they're even putting their hands on him and pushing him up against the car without any explanation … is the epitome of thuggish, bad police work," said Burton to Pasadena Now. "When you violate basic rules of police procedure, bad things happen… That's what happened here."
Pasadena Chief of Police Phillip Sanchez hopes to talk with members of the NAACP over the incident. NAACP Pasadena Branch President Delano Yarbrough told Pasadena Now that his organization his upset.
"We are concerned that such treatment continues against people of color, especially black males," said Yarborough.
© Copyright IBTimes 2023. All rights reserved.