'Bold And The Beautiful' Spoilers: Hope And Liam's Plans Are Questioned
They are now engaged and planning to marry, but as Hope and Liam start to share their news, they will meet some mixed reactions they didn't expect on the Wednesday, May 9 episode of "The Bold and the Beautiful."
After deciding he was going to file the annulment papers with Steffy (Jacqueline MacInnes Wood), Liam (Scott Clifton) informed Hope (Annika Noelle) of what he had learned on the CBS soap. No one knows that they're all being played by Bill (Don Diamont), but as far as Liam knows, his father and wife were still sleeping together behind his back, hence his decision to no longer reunite with her. Shortly after, he proposed to Hope, who accepted. They have since also made love and made their engagement official with her old ring.
However, now, as they decide to share their news, they will learn that Steffy isn't going to be the only one who will potentially have reservations about their plans, as they go to tell Brooke (Katherine Kelly Lang), and she questions how this came to be.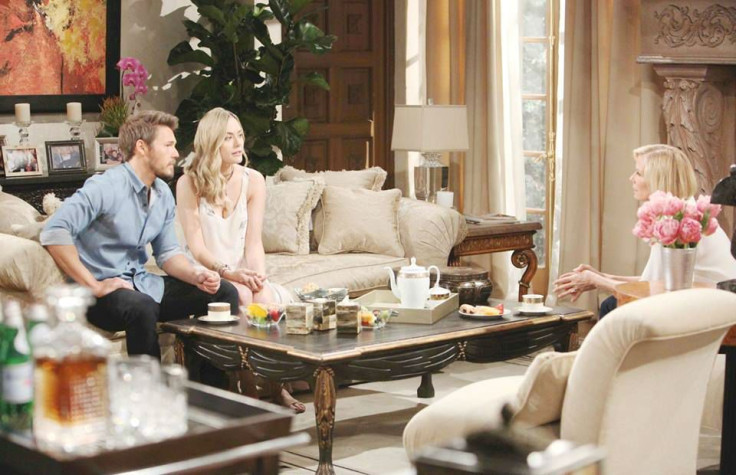 "I thought you were planning on staying with Steffy," she says in a preview clip for the episode.
Brooke had been a champion of Hope and Liam being together again but had to be the one who told Hope he was reuniting with Steffy after he had decided to do so and told Ridge (Thorsten Kaye) of his plans. Knowing that somehow he has now, in less than 24 hours, changed his mind again may make her unsettled. However, Liam will assure her he is committed to a future with Hope, and while he won't necessarily share what prompted his abrupt change of heart, he will indicate that Steffy wasn't willing to commit to their marriage the way he was.
"You can't repair a relationship when both parties aren't equally invested," he says in the clip.
However, even if Brooke does decide to give the couple her official blessing, she will be the least of their worries when it comes to the reactions they will get. It won't be long for their news to reach Ridge—who won't take things lightly—or Steffy.
"The Bold and the Beautiful" airs weekdays at 1L30 p.m. EDT on CBS.
© Copyright IBTimes 2023. All rights reserved.