'Bold And The Beautiful' Spoilers: Hope Plans For The Future
She took a home pregnancy test which said she was pregnant and carrying Liam's baby. Now, as Hope prepares to get the potential news confirmed, she will start to consider what it also means for her future on the Tuesday, July 3 episode of "The Bold and the Beautiful."
Hope (Annika Noelle) began to suspect she was pregnant after she wasn't feeling well, and remembered that she and Liam (Scott Clifton) hadn't used protection when they were sleeping together before their aborted wedding on the CBS soap. With her mother Brooke's (Katherine Kelly Lang) encouragement, she took the test and learned the results. She agreed she needed to tell Liam, but knew she had to get the news confirmed by a doctor first.
Now, as she awaits the results, she will consider what the baby means for her future, and whether or not learning this news came at the right time, especially as Brooke asks her what she thinks about the situation.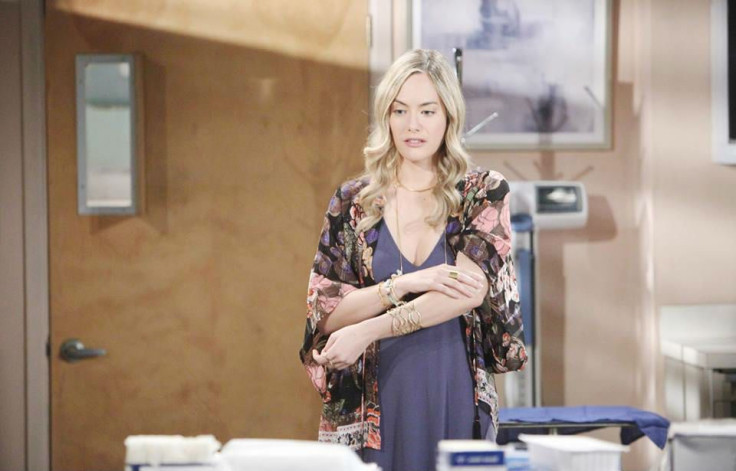 "Is it bad timing or good timing?" she asks her daughter in a preview clip for the episode.
Hope may be wondering that herself because she had considered her story with Liam to be over since he and Steffy (Jacqueline MacInnes Wood) had welcomed their daughter Kelly. They had ended their engagement after that, and Liam has already proposed to Steffy again. However, what no one has yet understood is why Steffy asked him to wait for a bit to marry her again. Since Hope knows that they aren't yet married, she may feel more like she still has a chance to be the one who has a family with Liam instead.
Regardless of how she feels about the timing though, she will need to prepare herself for how to share the news with Liam once it's confirmed, and she will assure her doctor that she has already considered all of the steps she needs to take when it comes to the baby.
"If you tell me that I'm really pregnant, then the big decisions have already made themselves," she says in the clip.
"The Bold and the Beautiful" airs weekdays at 1:30 p.m. EDT on CBS.
© Copyright IBTimes 2023. All rights reserved.