'Bold And The Beautiful' Spoilers: How Will Quinn Get Revenge?
She was furious when Brooke insisted that Eric not only kick her best friend out of their mansion but that he divorce her as well. Now, following Eric trying to make his ex-wife happy, Quinn will make it clear she refuses to back down from her enemy on the Thursday, Jan, 30 episode of "The Bold and the Beautiful."
After learning that Ridge (Thorsten Kaye) and Shauna (Denise Richards) had kissed, Brooke (Katherine Kelly Lang) immediately went to Eric (John McCook) and demanded that he kick Shauna out of the guest house of the Forrester Mansion because she was interfering in her marriage. To make matters more intense on the CBS soap, she also told Eric to end his marriage to Quinn (Rena Sofer), something that did not sit well with his wife. Since then, the women have been at war.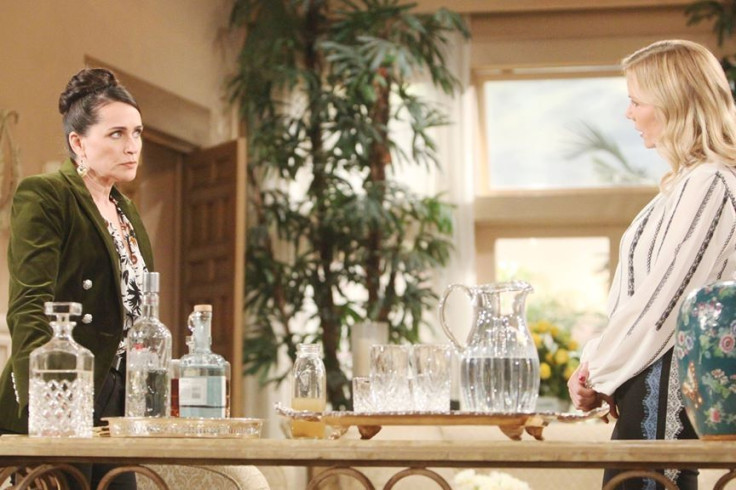 Now, following Eric telling her he wanted Shauna to leave because he didn't want to risk sending Brooke over the edge and drinking again, Quinn will make it clear she also is not going to back down and let someone else—let alone Brooke—control her life.
"Quinn lets Eric and Ridge know she won't back down from Brooke," spoilers state.
Of course, if Quinn is deciding to take action, that could prove to be dangerous for Brooke, who has had issues with her before when it came to her plans to once marry Deacon. In general, when Quinn feels threatened, she acts out in intense ways and takes no prisoners. She may have stifled those instincts a lot since she married Eric, but they are still there—and if Brooke isn't careful, she will be the next target when it comes to Quinn stopping at nothing to get revenge.
"The Bold and the Beautiful" airs weekdays at 1:30 p.m. EST on CBS.
© Copyright IBTimes 2023. All rights reserved.