'Bold And The Beautiful' Spoilers: How Will Zoe React To News About Flo?
The news that she was a Logan shocked both her and the entire family who didn't know she existed. Now, the only other person besides her mother who knows her secret will learn the truth about Flo—and Zoe will immediately go into shock over the news on the Thursday, April 25 episode of "The Bold and the Beautiful."
Flo (Katrina Bowden) felt more compelled than ever that she needed to tell the truth about the baby swap to Hope (Annika Noelle), but her mother, Shauna (Denise Richards), discouraged her from doing so because of what it could do in terms of finding her new family on the CBS soap. For now, she's keeping the secret, even though she too is a Logan and is Hope's first cousin. However, as news about her identity continues to spread, the only other person who knows her huge secret will express shock.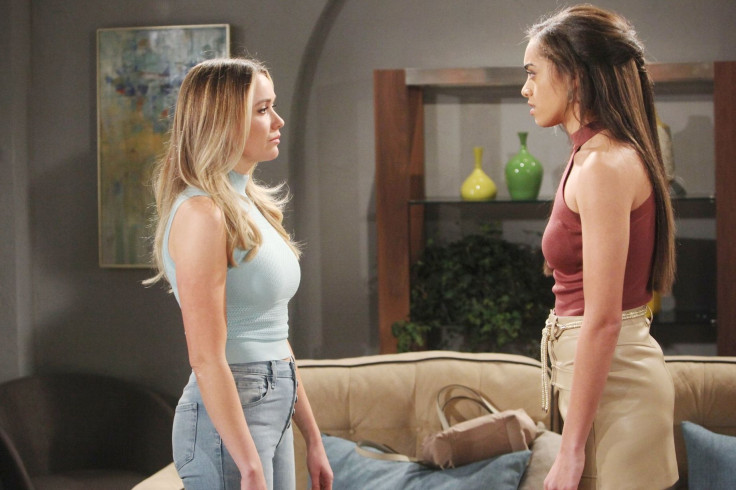 "Zoe (Kiara Barnes) is unable to hide her reaction when Brooke (Katherine Kelly Lang) mentions the identity of Flo's father," spoilers reveal.
Naturally, after she hears the truth, she will likely seek Flo out again to see how this is affecting her when it comes to whether or not she'll reveal the truth about the baby swap. Though Flo may admit that she is keeping the truth under wraps for now, she likely will also reveal that she still feels its wrong and needs to be revealed.
As a result, Zoe may pull out the big guns when it comes to reminding her why she needs to keep the secret. Not only would Hope never forgive her and she would lose her new family, but the truth getting out would also affect her friendship with Wyatt (Darin Brooks)-and remove any chance that they could potentially rekindle their one-time romance in the future.
"The Bold and the Beautiful" airs weekdays at 1:30 p.m. EDT on CBS.
© Copyright IBTimes 2023. All rights reserved.