'Bold And The Beautiful' Spoilers: Katie And Wyatt's Secret Affair Is Exposed
They've been keeping their budding romance a secret from everyone ever since it began in Monte Carlo. Now though, Katie and Wyatt will find themselves scrambling when their secret is threatened with exposure on the Tuesday, Oct. 3 episode of "the Bold and the Beautiful."
Katie (Heather Tom) and Wyatt (Darin Brooks) haven't been open about their attraction turned relationship on the CBS soap because of how complicated it would seem to everyone around them. Not only was Katie married to Wyatt's father, Bill (Don Diamont) twice and has a young son with him, but she and Quinn (Rena Sofer) have never really been friends, and Wyatt's mother likely wouldn't take too kindly to her son being with a woman who has been her enemy in the recent past.
However, after Sheila (Kimberlin Brown) witnessed their kiss at Il Giardino and went to Eric (John McCook) with the information, he went to go talk to Katie about it—and walked in on the pair during a heavy make out session. Now, he will admit to the two that he is stunned by their romance.
"Well, I have to admit, I'm a little surprised," he says in a preview clip for the episode.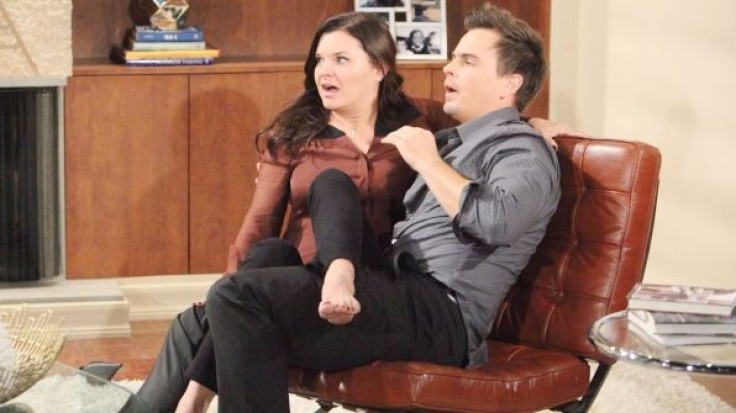 Knowing that Eric could go home and tell Quinn everything, the couple will quickly scramble to try and cover things up a bit more, alluding to their keeping it a secret because they weren't sure how serious they are about one another, in the hopes that will guarantee Eric remaining quiet.
"We don't really know where this is going," Katie says in the clip.
"Right," Wyatt adds.
Of course, while Eric is considering whether or not to tell his wife about the affair, he won't realize that he's being set up by Sheila in her newest plot to undo his marriage so she can become his wife again.
Sheila told Eric about what she saw because she knew it would get him out of the house, and she has been left there with the attractive new groundskeeper for the property, Mateo (Francisco San Martin). Sheila has been looking for any possible way she can to prove to Eric that Quinn would eventually stray from him again, knowing that doing so would truly end the couple's marriage. However, her previous attempts to set Quinn and Ridge (Thorsten Kaye) up again to force the betrayal have all failed to produce results.
Now, when she sees Mateo and realizes he will be working full time at the Forrester Estate, Sheila will decide that he may be the perfect new accomplice to achieving her goal. If she can convince him to be flirty and seductive with Quinn, the other woman may fall for the trap, which would allow Sheila to move in as the new Mrs. Forrester. Now, she will lay the groundwork to try and convince the young man to join forces with her.
"I like you," she says in the clip. "I really think that we could help one another."
"The Bold and the Beautiful" airs weekdays at 1:30 p.m. EDT on CBS.
© Copyright IBTimes 2023. All rights reserved.