'Bold And The Beautiful' Spoilers: Sally Gives Thomas An Out From Their Relationship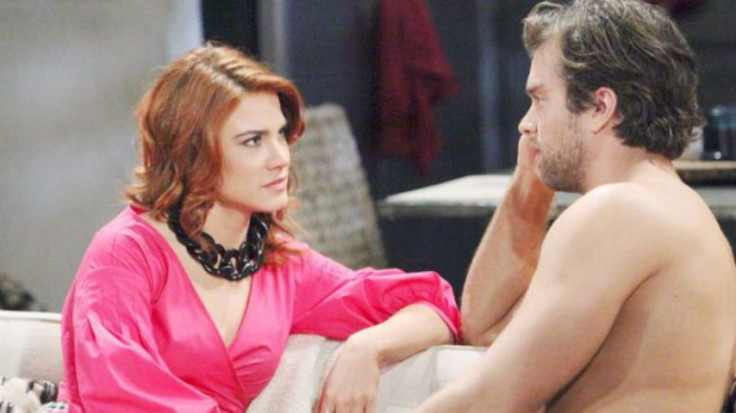 He has given up pretty much everything to be with her, but Sally will begin to feel guilty about everything Thomas has lost. Knowing he could have so much more, she will give him an out to leave their relationship in the past on the Thursday, May 25 episode of "The Bold and the Beautiful."
After realizing that Bill (Don Diamont) was the one who wrote the horrible review of Sally's (Courtney Hope) preview collection so he could take over the building Spectra was housed in, Thomas (Pierson Fode) became her knight in shining armor on the CBS soap. To keep Spectra from going out of business, Thomas fronted the $100,000 Sally needed for her rent. However, that move cost him the trust of his family, and his father, Ridge (Thorsten Kaye), fired him from Forrester because of what he had done.
Now, Thomas is sure of his feelings for Sally and knows he loves her, so he's willing to still lose everything so he can be with her. However, Sally can't help but feel guilt over what he has now lost because of her, and will tell him that she's willing to let him go if he wants to declare his loyalty back with the Forrester clan, instead of to her and the love they share.
Read: 7 Moments You Missed Last Week On "Days Of Our Lives," "The Young And The Restless," And "The Bold And The Beautiful"
"Are you reconsidering what you did for me?" She asks in a preview clip. "There's no hard feelings if you change your mind and decide that you can no longer support me."
However, Thomas will reassure Sally that he isn't changing his mind, because he does love her and wants to be with her. To him, if his family can't understand why he is still supporting her after everything that unfolded, then he doesn't need them.
Of course, the Forresters do have a good reason for not trusting Sally and for being furious that Thomas laid out so much of their money to help her. After the review that Bill wrote, Sally was pushed by her family to stick to the Spectra roots and steal Forrester's designs before they had a chance to debut them. Initially against it because of how she felt about Thomas, Sally eventually did go through with the plan, and debuted the Forrester designs as a Spectra collection. Forrester tried to sue her and send her to prison for stealing the designs, and they were almost successful. However, Thomas intervened again at that point, testifying on Sally's behalf, which led to the criminal charges against her being dropped.
Read: Brooke Makes Her Decision Between Bill And Ridge On "The Bold And The Beautiful"
Of course, though Thomas is willing to give up everything for Sally, he could possibly be persuaded to go back to his family if the right offer is presented to him.
"The Bold and the Beautiful" airs weekdays at 1:30 p.m. EDT on CBS.
© Copyright IBTimes 2023. All rights reserved.