'The Bold And The Beautiful' Spoilers For This Week: Forrester Creations Introduces The New California Freedom Line [VIDEO]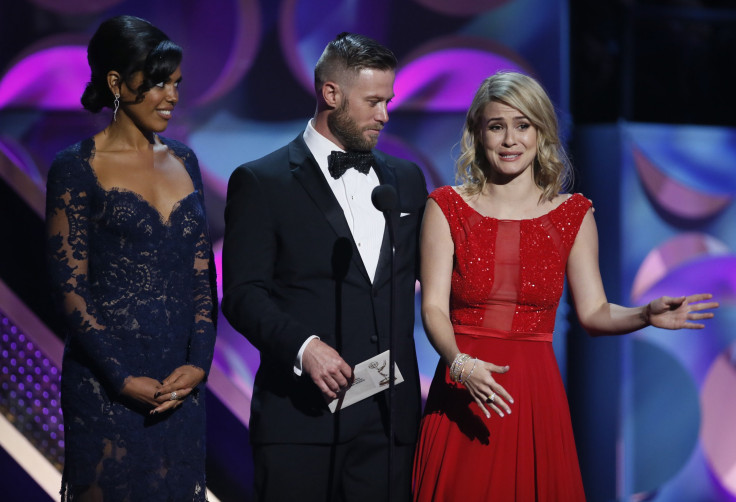 This week's episodes of the CBS soap opera, "The Bold And The Beautiful," will feature a very important fashion show for Forrester Creations featuring Ridge and Caroline's designs. Plus, Maya will be joined by two other transgender models to walk the runway. The storyline also includes Maya's difficult parents, Aly's worsening delusions about Darla and Zende's growing interest in Nicole.
The episodes will feature the following characters: Maya Avant (Karla Mosley), Vivienne Avant (Anna Maria Horsford), Alexandria "Aly" Forrester (Ashlyn Pearce), Brooke Logan Forrester (Katherine Kelly Lang), Nicole Avant (Reign Edwards), Eric Forrester (John McCook), Liam Spencer (Scott Clifton), Ivy Forrester (Ashleigh Brewer), Zende Forrester Dominguez (Rome Flynn), Caroline Spencer Forrester (Linsey Godfrey), Ridge Forrester (Thorsten Kaye), Wyatt Fuller (Darin Brooks), Bill Spencer, Jr. (Don Diamont), Katie Logan Spencer (Heather Tom), Steffy Forrester (Jacqueline MacInnes Wood) and Obba Babatundé (Julius Avant).
Spoiler alert! This article contains "The Bold And The Beautiful" spoilers. Read only if you want to know more.
Soaps.sheknows.com reports Nicole wants her parents to leave before they cause Maya more pain. Nicole will also have a conversation with Zende about her sister. As for Maya, she will tell her mother and father how they have made her feel about herself, especially when she was growing up.
Meanwhile, Nicole and Vivienne will question Julius about changing his mind. Ridge will announce the new Forrester Creations' California Freedom line with Maya as its main model. Julius will doubt Rick's commitment to her daughter and he will test it. As for Aly, she will continue to talk to her dead mother, Darla, and ask for advice.

Ridge and Caroline will prepare for the Forrester Creations' fashion show. Maya will be the star of the company's upcoming fashion show and her parents might even see her in a different light. Wyatt will comfort Ivy after she sees Steffy and Liam spending time at the fashion show. Unfortunately, all the excitement of the fashion show will be upsetting for Aly.
Soap Central reports Zende and Nicole will bond over memories of their childhoods. Nicole will also team up with Vivienne to have a long conversation with her father, Julius. But when Julius seems to have as sudden change of heart, Nicole will suspect her father is up to something.
Maya will find out her father has been telling everyone Myron died. She will share with Rick her difficult relationship with her mother and father. Thomas and Thorne will go home because of grim circumstances.

Plus, real transgender models will appear in the Forrester fashion show with Maya for the company's new California Freedom line. TV Insider reports Isis King ("America's Next Top Model" Cycle 17) and Carmen Carrera ("RuPaul's Drag Race" Season 3, "RuPaul's Drag U") will appear on "B&B."
Brooke, Eric and Caroline are hoping the line will be a huge success. Bill will arrive unexpectedly at the event. Aly is still focused on getting rid of Steffy. Zende hopes Nicole stays at Forrester Creations. And, Ivy's plan of letting Liam date Steffy will backfire.

Watch "The Bold And The Beautiful" Preview Video For The Monday Episode:
Credit: YouTube/boldandbeautiful
© Copyright IBTimes 2023. All rights reserved.