'Bold And The Beautiful' Spoilers: Will Bill Fall For Shauna And Katie's Plan?
She wants to be able to prove to herself that she can trust him before she considers starting a life with him again. Now, with a plan in place to test him, Katie will see if Bill is tempted by Shauna on the Wednesday, May 15 episode of "The Bold and the Beautiful."
Katie (Heather Tom) does want to say she will reunite with Bill (Don Diamont) and put their family back together, but since their first two marriages ended after he cheated on her with her sister, Brooke (Katherine Kelly Lang), she isn't sure she can trust him, even though he proposed to her on the CBS soap. As a result, she has enlisted Shauna (Denise Richards) to help her, as she intends to see how committed he really is.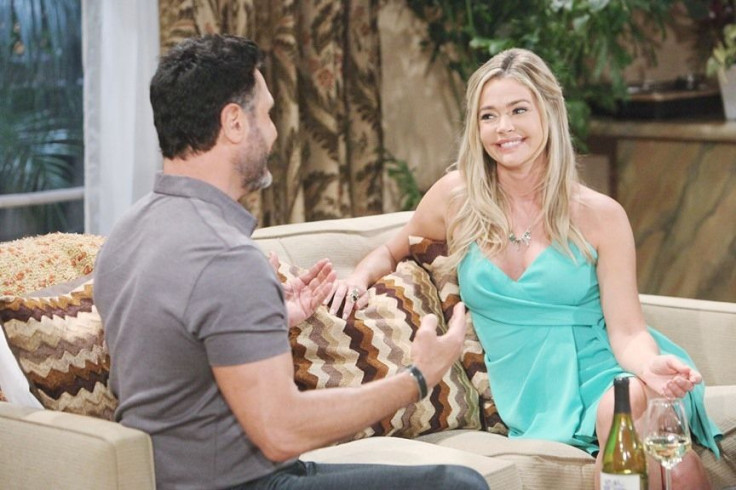 "Shauna and Katie's plan to test Bill's loyalty is put into action," spoilers reveal.
Shauna is set to try and see if she can seduce Bill as Katie listens in on a recording device—but it's a plan that could also backfire on her spectacularly. Not only could Bill fall for it and prove that she was right not to trust him, but he and Shauna could also strike up a relationship of their own if they have feelings. In addition, she technically doesn't have a right to be upset if it does go that way since she had turned Bill's proposal down.
However, there is another way things could go that don't necessarily end well for Katie. Bill has revealed to Justin (Aaron Spears) that if Katie can't trust him, then he isn't going to try anymore. If he quickly catches on that this is a trap, it could be the thing that drives them apart for good.
"The Bold and the Beautiful" airs weekdays at 1:30 p.m. EDT on CBS.
© Copyright IBTimes 2023. All rights reserved.