'Bold And The Beautiful' Spoilers: Will Everyone's Differences Be Put Aside For Thanksgiving?
Everyone has been enveloped in some sort of drama in recent weeks on "The Bold and the Beautiful," but as Thanksgiving arrives, the Forresters, Logans, Spencers, Spectras and Avants will opt to all put their differences aside as they continue their family traditions on the Wednesday, Nov. 21 episode.
It's been a tradition within the Forrester Mansion for years that Thanksgiving is the one day a year where everyone puts away their concerns about one another on the CBS soap, especially as they all sit down to dinner together. Once again, they will all decide to participate in the tradition where they have to say something kind about the person seated to their right at the table, which will intentionally be set with people who have some differences next to one another.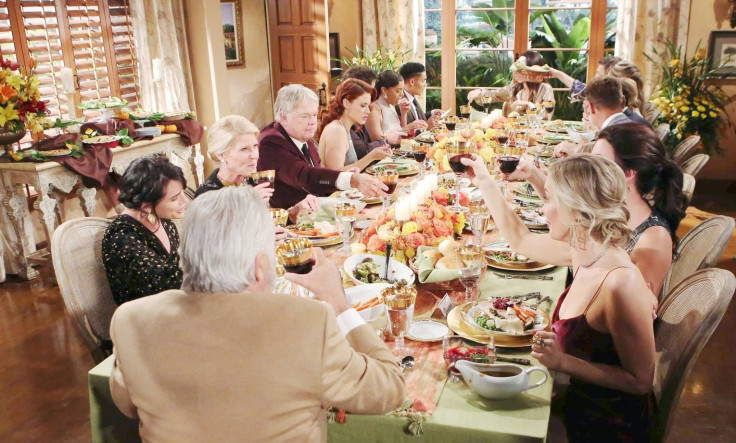 Spoilers tease that Hope (Annika Noelle) and Steffy (Jacqueline MacInnes Wood) will once again partner up by creating the seating chart, which will likely see them each seated by Liam (Scott Clifton), who will be between the women he has children with. Of course, one of the bigger shocks could see Quinn (Rena Sofer) forced to be nicer to Pam (Alley Mills) and Donna (Jennifer Gareis), who have been making it clear they intend to disrupt her marriage to Eric (John McCook).
"Quinn has to be gracious to Pam and Donna," spoilers tease.
There's been drama between the women following Quinn's refusal to let Pam get married at the mansion and hang Stephanie's portrait up once again, and things only became tenser when Donna moved back to L.A. and was given a job at Forrester again. Now, if she is seated with one of them next to her, Quinn will be forced to swallow her pride when it comes to protecting her marriage.
"The Bold and the Beautiful" airs weekdays at 1:30 p.m. EDT on CBS.
© Copyright IBTimes 2023. All rights reserved.