'Bold And The Beautiful' Spoilers: Will Katie And Bill Reunite?
Her marriage came to an end partially because her husband Thorne felt she might still have feelings for her ex. Now, with everyone around them pushing them to reunite and get back together, Katie and Bill will realize that they're being set up with a romantic lunch date on the Thursday, March 14 episode of "The Bold and the Beautiful."
Katie (Heather Tom) and Bill (Don Diamont) both headed to Il Giardino for alleged lunch meetings after conversations about what their future might hold, and now as the people they are supposed to meet fail to show, the former couple will realize that they may have been set up to enjoy a romantic meal together in the hopes that it will end with them getting back together once again.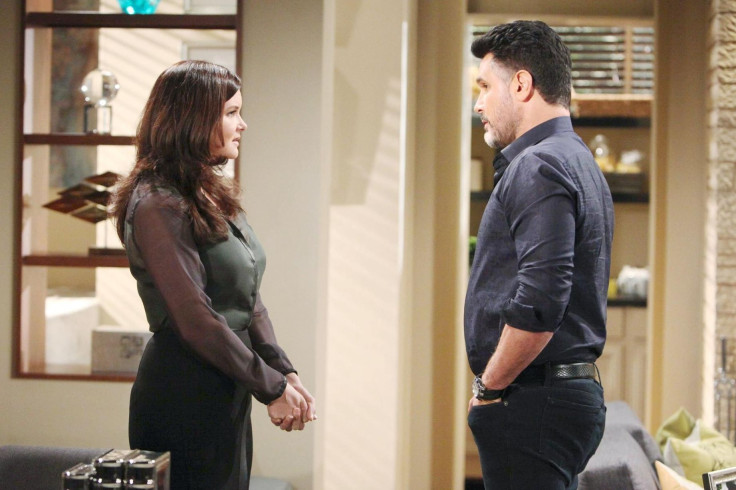 "At Il Giardino, Bill and Katie realize they've been set up," spoilers reveal.
Prior to their meeting, Katie was hounded by Donna (Jennifer Gareis) about whether or not she would consider getting back with Bill, while he faced questioning from Justin (Aaron Spears), Wyatt (Darin Brooks) and Sally (Courtney Hope), all of whom feel that he is the best version of himself now, meaning he and Katie could be a better couple than they ever have been in the past.
Still, the final decision will come down to the two themselves, because they are also enjoying their ability to co-parent their son, Will (Finnegan Goerge) without drama and they do like the friendship they have. If they fear a relationship will get in the way of that, they may refuse to get involved again, no matter how much their loved ones think it's the right move for them to make.
"The Bold and the Beautiful" airs weekdays at 1:30 p.m. EDT on CBS.
© Copyright IBTimes 2023. All rights reserved.