Bookstore Goes Viral For Placing Prince Harry's Memoir Next To 'How To Kill Your Family'
Prince Harry's much-talked-about memoir, "Spare," finally hit the bookstores Tuesday.
In the middle of all the controversies surrounding whether it has bestseller-worthy elements, one bookstore, in particular, has gone viral for the way the memoir was displayed on its storefront.
Bert's Books in Swindon, U.K., gathered thousands of likes for its creative window display of "Spare" in which the memoir was placed next to a book titled "How To Kill Your Family" in a cheeky counter-response to Harry's bombshell revelations about his father, brother and sister-in-law.
The bookstore shared the picture on its Twitter account captioning the post: "Anyway, we do have some spare copies of 'Spare' if you want one."
However, the owner of the store, Alex Call, later explained the placement was not done on purpose as Bella Mackie's "How to Kill Your Family" was already on the display shelves for being a bestselling novel in 2022, Huffington Post reported.
Call said when the unplanned placement was brought to their notice, they let it remain as it was, just so that people could get a chuckle or two.
"Then when we saw it there, we thought it would be quite funny to put it next to 'Spare' and would be quite light-hearted and make a few people smile," Call told Huffington Post.
"Spare," the most anticipated autobiography of the Duke of Sussex is said to be the biggest royal book since his mother, Princess Diana, collaborated with Andrew Morton for "Diana" Her True Story" in 1992.
The book was already dominating the bestseller lists ahead of its scheduled release Tuesday, and secured the top positions of both Amazon's U.S. bestseller list for books and Barnes & Noble's "B&N Top 100: Book Bestsellers list.
"Spare" has broken all records to become the fastest-selling non-fiction book so far, recording a sales figure of 400,000 copies in hardback, e-book, and audio formats on its first day of publication.
Some key takeaways from the book were details from Harry and Meghan's highly publicized split from the royal family in April 2021, his combative relationship with his father, King Charles III, and brother, Prince William, how he killed 25 Taliban fighters while serving as a soldier in Afghanistan, and even how he lost his virginity to an older woman at the age of 17.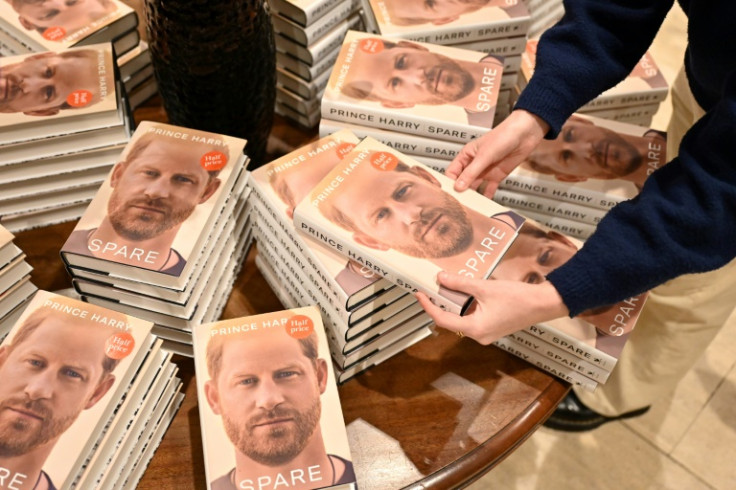 © Copyright IBTimes 2023. All rights reserved.