Boston Marathon Bombing Suspect No. 1 Shot Dead After Intense Gunfight, MIT Officer Killed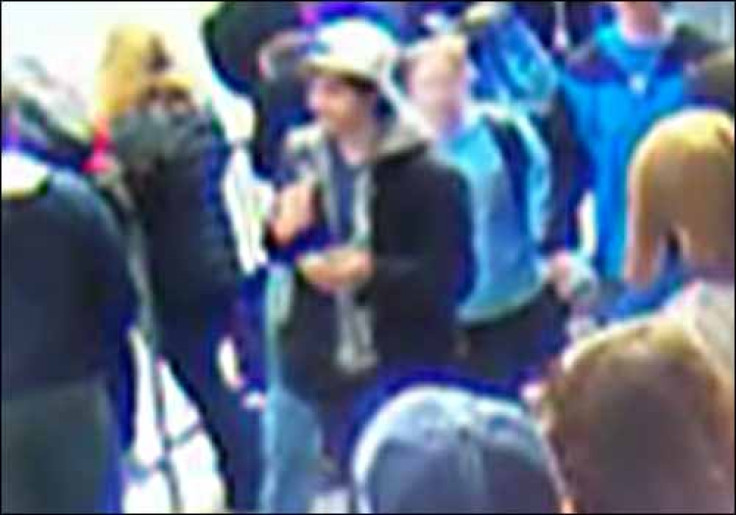 Update: 7:32 A.M.: During the police chase at Watertown, Mass., both suspects were present in the stolen vehicle and were throwing explosive devices at police.
Update: 7:13 A.M.: The bombing suspect who died shortly after an intense shootout with authorities had explosive devices attached to his body, officials said.
Update 7:03 A.M.: The Associated Press is reporting that both the suspect who has been shot dead and the one still at large are brothers from Chechnya.
Authorities are combing the Watertown, Mass., area for explosive devices that may have been left by the two men.
Update: 6:45 A.M.: Authorities sealed off Watertown, Mass., Friday, asking businesses and schools to remain closed and residents to remain at home as the search for Boston Marathon bombing suspect No. 2, the one shown in photos wearing a white baseball cap backwards, intensified following a predawn shootout that left suspect No. 1 dead, a police officer dead and another officer wounded in critical condition.
Late Thursday night around 10 p.m. a Massachusetts Institute of Technology officer, responding to a report of a convenience store robbery near the school, was shot dead in his cruiser, the Boston Globe said. Two men then carjacked a Mercedes SUV at gunpoint, and numerous law officers gave chase. During the pursuit the suspects fired at police, critically wounding a transit police officer. A gunfight left one suspect, the one wearing the black baseball hat in photos released to the public, was gravely wounded and around 11 a.m. transported to Beth Israel Deaconess Medical Center, where the man, known as suspect No. 1, died.
Suspect No. 2 was still at large at 6:50 a.m.
Authorities, who believe the man is in the Watertown area, have shutdown all public transit in the community and stopped all but official vehicles from entering or leaving the community. Businesses are being asked to stay closed and schools have been asked to cancel all classes for today.
"We are asking you to stay indoors, to stay in your homes for the time being," Kurt Schwartz, a spokesman for the state's homeland security department said at a 6 a.m. news conference. "People at bus or subway stations, we are asking them to go home," Schwartz said. "We do not want people congregating and waiting for the system to come back on."
Update 6:15 A.M.: One suspect in the Boston Bombing was killed in standoff with police in Watertown, Mass., and a manhunt is on for the second, who is also armed and dangerous, the FBI said.
Update 4:11 A.M.: The Boston Globe is reporting that one Boston bombing suspect, possibly the previously apprehended Sunil Tripathi, is dead while the other remains at large. A 20 block perimeter has been created in Watertown.
Update 3:50 A.M.: The Boston Globe reports that a Massachusetts Bay Transportation Authority worker is being treated for gunshot wounds sustained during the ongoing manhunt.
Update 3:27 A.M.: The family of missing Brown student and apparent Boston bombing suspect Sunil Tripathi reportedly removed a Facebook page dedicated to helping track his whereabouts around 11 p.m. on Thursday night, according to the Daily Mail's Hayley Peterson. IBTimes reached out to Tripathi's sister, Sangeeta, for comment but the voicemail on her cellphone was full.
Here is a cached copy of the Sunil Tripathi Facebook page.
Update 3:10 A.M.: Boston police revealed the names of both Boston Marathon bombing suspects over police scanner, according to WFSB's Kevin Michael: Suspect 1 is reportedly Mike Mulugeta, and Suspect 2 is reportedly Sunil Tripathi. The police chatter has not been officially confirmed.
Update 3 A.M.: The Boston Marathon bombing suspect captured by police appears to be Sunil Tripathi, a student missing from Brown University, the Atlantic's Matt O'Brien reports.
Update 2:50 A.M.: The Global Grind's Michael Skolnik reports that federal agents are still looking for the Boston Marathon bombing suspect seen in FBI photos with a white hat.
Police scanners report that the suspect may be armed with IEDs.
2:40 A.M.: According to the Boston Globe, one suspect in the Boston Marathon bombings has been captured by police following a shootout in the nearby Watertown, Mass.
"One marathon suspect has been captured, according to an official with knowledge of the investigation. Another remains on the loose in Watertown after a firefight with police. Authorities have established a 20-block perimeter as they search for him," the Boston Globe wrote.
The news comes shortly after reports of a wild shootout with officials in Watertown, Mass., after an MIT police officer was shot and killed on Thursday night.
Two suspects appear to have robbed a 7-11 in Cambridge, Mass., late Thursday night before fleeing to the MIT campus. There, they shot and killed a campus police officer before fleeing to nearby Watertown. On the way, the suspects fired on police and reportedly dropped improvised explosive devices from their stolen Mercedes.
Once in Watertown, the suspects engaged in a firefight with Boston and Watertown police. Boston's Channel 5 News reported that the suspects fired as many as 25 rounds in a single minute. Police managed to capture one suspect, and another appears to have been shot and taken to Beth Israel hospital.
Reports still state that there may be additional explosives around the Watertown area.
Update: Despite a suspect possibly being in custody, explosives still appear to be live in Watertown. Authorities have referred to several "devices" and "packages" on the Boston police scanner, and police have asked nearby witnesses to power down their cellphones "for fear of explosion."
One suspect still appears to be on the loose.
FOLLOW MORE IBT NEWS ON THE BELOW CHANNELS