'Botched' Season 2 Renewed; Celebrate With Our Top 4 Favorite Patients From Season 1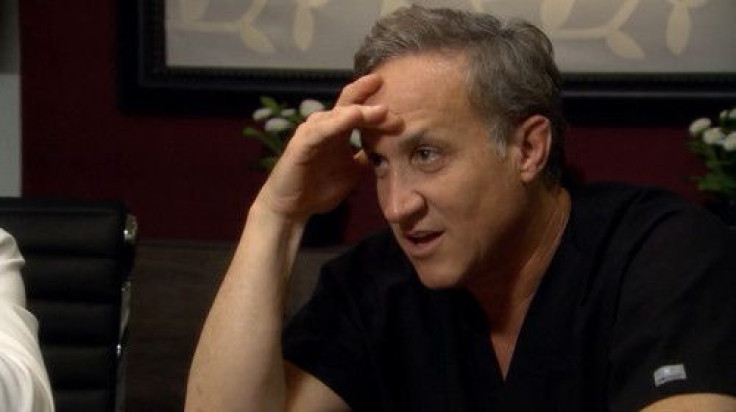 The E! network just renewed "Botched" for Season 2, reports TV Guide. The second season is sure to bring more bizarre surgeries to Dr. Terry Dubrow and Dr. Paul Nassif, and it's tough to imagine the show getting even crazier. The plastic surgery reality show has brought some serious life-or-death drama to the small screen this summer. It's difficult to pick just a few crazy cases from the series, but here are just four of our favorite patients:
The Belieber: Toby wanted to look like Justin Bieber, specifically 18-year-old Bieber (which was just before the singer's public image started going downhill). With more than $100,000 spent on surgeries such as hair transplants, lip lifts and liposuction already, Toby still had plenty of work that he wanted done. He wanted to reduce his forehead and his jaw. His doctor told him that to shrink a forehead, it would end up jutting out like a Neanderthal's forehead. Toby didn't seem to mind, but this surgery was too extreme for the "Botched" doctors. They turned Toby away, which is apparently something that the patient was used to.
Janice Dickinson: The former model had breast implants put in 30 years ago, and she never replaced them. There is no set time for how long implants last, but according to the FDA: "Breast implants are not lifetime devices; the longer you have your implants, the more likely it will be for you to have them removed." With 30 years of aging, the implants have caused Janice's breasts to sag and created a sort of ripple effect in her skin. Dubrow is shocked that Dickinson has had the implants so long, but he is more shocked with her behavior after surgery. The former "America's Next Top Model" judge demanded stronger painkillers, took out both of her drains and touched her wounds and stitches instead of keeping them covered with the proper dressings and bandages. Ultimately, she recovered from the surgery and was happy with the results.
The Girl With Her Vagina On Her Stomach: In one of the most terrifying cases on "Botched" Season 1, Desiree comes in to fix a tummy tuck from Tijuana. The surgeon didn't use anesthesia but instead just used to blocks of ice to numb her. After the surgery, Desiree realized her vagina was now on her stomach and the skin on her stomach was distorted and bumpy. The procedure of cutting down and lowering the skin was difficult, but Desiree made it through. She was thrilled that her vagina was in its rightful place and she could wear a bikini in public.
The Cancer Survivor: Cynthia's story wasn't very scandalous, but it brought a heavy dose of reality to the plastic surgery show. Cynthia had to undergo a mastectomy after she was diagnosed with breast cancer. She was cancer-free, but her reconstruction surgery didn't go so well. The surgery was so botched that her left breast had collapsed inward. It turned out that the implant actually ruptured and doctors had to remove the loose silicone from her body before putting a new (and hopefully more stable) implant in.
"Botched" airs Sundays at 10:30 on E! Who were your favorite patients to watch in Season 1? Share your thoughts in the comments section below.
© Copyright IBTimes 2023. All rights reserved.