Bowe Bergdahl Update: Court Martial Date Scheduled As Defense Argues Over Classified Documents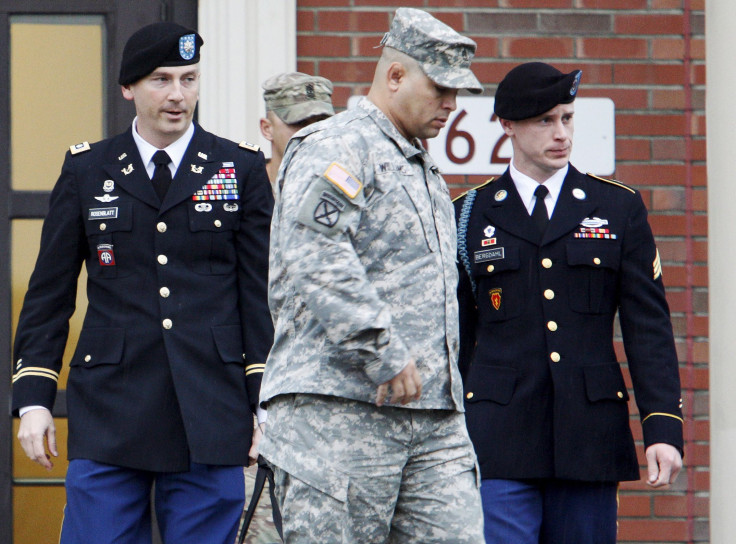 U.S. Army Sgt. Bowe Bergdahl, who was held captive by the Taliban for five years in Afghanistan after disappearing from his post, appeared in court Tuesday for a pre-trial hearing for his charges of desertion and misbehavior before the enemy. Bergdahl left court hours later with a tentatively scheduled court-martial to start Aug. 8.
His attorneys Tuesday sparred with Army officials over the 300,000 pages of classified material they intend to present at his court-martial, arguing that Bergdahl's defense should only be allowed to look at the material if it is filtered through the government, local media reported.
Bergdahl's attorney said the defense should be allowed to see the classified material, adding that he's been denied access already to thousands of pages of documents, making it difficult to prepare for the court-martial, the Washington Post reported. Prosecutors said they need to be filtered to prevent unauthorized information from getting out.
Also at issue Tuesday was what Bergdahl would be able to wear on his uniform during his court-martial, local media reported. The type of uniform he would be required to wear would not allow him to display his merit medals, such as his Purple Heart, which could be prejudicial to someone watching the trial.
Bergdahl deferred entering a plea at a Dec. 22 hearing, ABC News reported. Bergdahl's charge of desertion has a maximum five-year sentence attached to it, while misbehavior before the enemy could lead to a life sentence if convicted. Bergdahl was captured in 2009 after disappearing from the Mest-Malak combat outpost in Paktika Province, and recovered in May 2014 during a prisoner swap for five detainees from Guantanamo Bay.
His case has been pushed into the headlines further by the podcast "Serial," which chronicled his story, the Washington Post reported. Bergdahl said that after he was captured, he was caged and repeatedly slashed with a razor blade.
If Bergdahl would opt against a bench trial, a panel of five officers, all ranked higher than him, would determine his fate, CNN reported. Army Maj. Gen. Kenneth Dahl said in December that Bergdahl left is post to bring attention to bad leadership in his unit and a possible investigation into that leadership.
Other leaders in the Army, however, have said Berdahl's disappearance was not meant to bring attention to leadership problems, and that he should face jail time. At least six troops were killed while trying to look for Bergdahl, CNN reported.
© Copyright IBTimes 2022. All rights reserved.
FOLLOW MORE IBT NEWS ON THE BELOW CHANNELS