Brad Pitt And George Clooney Reunite, Have Twinning Moment On Set Of 'Wolves' Movie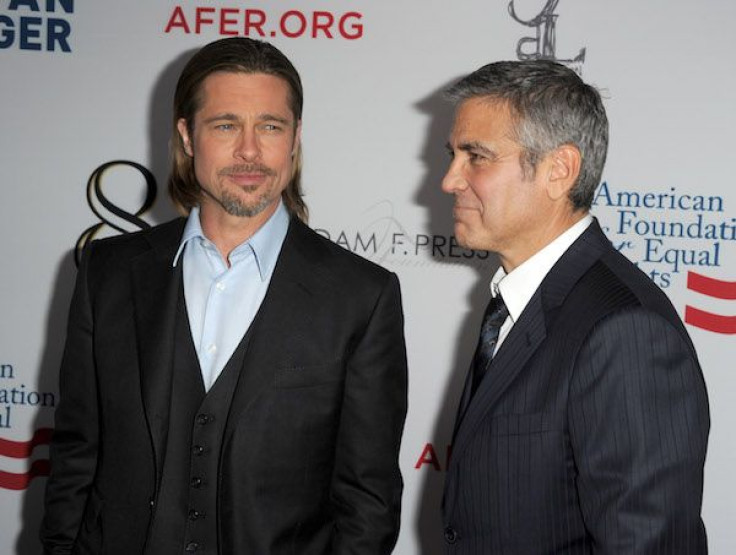 KEY POINTS
Brad Pitt and George Clooney were spotted in New York City filming scenes for their upcoming thriller "Wolves"
The duo both sported black leather jackets, gray pants and black shoes
Clooney said they agreed to a huge pay cut to guarantee the theatrical release of "Wolves"
Brad Pitt and George Clooney have reunited for a new movie.
Pitt, 59, and Clooney, 61, were spotted in New York City Tuesday filming scenes for their upcoming Apple TV+ thriller, "Wolves."
The pair had a twinning moment on set as both sported black leather jackets, gray pants and black shoes.
In one photo obtained by Fox News, they were seen laughing as they sat in a dark blue vehicle. The "Midnight Sky" star was behind the wheel, while the "Once Upon a Time in Hollywood" actor was in the passenger seat.
Another shot showed Pitt sporting a teal velour jumpsuit with a white shirt underneath. He paired it with white sneakers. He carried a red bag over his shoulder while holding a yellow scarf.
Clooney and Pitt's new movie, which was written and directed by John Watts, is about "two lone fixers who are assigned the same job," according to Apple TV+.
"Wolves" reunites the two actors after the "Ocean's" franchise and 2008's "Burn After Reading."
After working on multiple movies together, Pitt and Clooney have become good friends and often jokingly take jabs at each other.
During Pitt's interview with Vogue magazine last year, he named Paul Newman one of the most handsome men in the world, past and present, because "he aged gracefully," before dropping Clooney's name.
"If I was gonna name someone present, well I gotta name that George Clooney f—er because why not?" Pitt said. "Because usually, I'm always taking him out, and he's always taking me out. And this time, I'm gonna go the other way, just this once."
Days later, Clooney replied to Pitt's comments when he appeared on "The Late Show" and was prompted by host Stephen Colbert to weigh in on it.
"Well, I do have some things to say about him and it will include the word f—er in it, apparently, since he used that about me," Clooney said. "I would say that I too think that I am the most handsome man in the world."
Clooney laughed before adding, "I will say that I think his first answer was himself. And then somebody said, 'Let's do that again, Don't say yourself,' you know."
The actor went on to call Pitt a "good friend" and announce that they were doing another movie together.
Clooney also spoke about his new film with Pitt in a recent interview with Deadline. According to the actor, he and Pitt offered to take a massive pay cut in exchange for a theatrical release, in addition to streaming, of "Wolves."
"Yeah. Brad and I. It was an exciting time because it got to be one of those weird bidding wars which happen every once in a while, and it ended up being pretty extreme, and Apple came in with a really big number for Brad and I, and we said we'd like to take less as long as we can guarantee that we can have a theatrical release, and they said great. So, I do think that there's a way that we can all co-exist," he told the publication.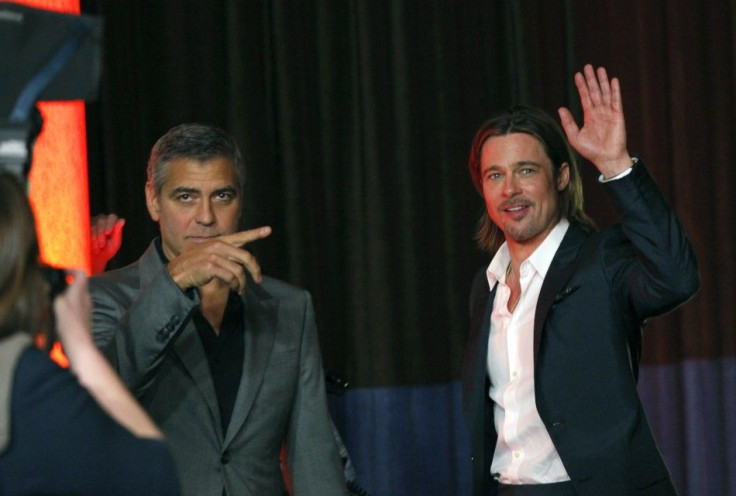 © Copyright IBTimes 2023. All rights reserved.