Brad Pitt Shows 'No Clear Signs Of PDA' During Outing With Mystery Woman
Brad Pitt was recently spotted attending a Thundercat concert at The Wiltern in Los Angeles with a mystery woman.
TMZ reports that Pitt showed up to the March 7 event with the unidentified woman and that the two sat next to each other for the duration of the show. There is no official word on whether the Oscar-winning actor is dating again, as there were "no clear signs of PDA," according to the outlet. The pair were later joined by singer-songwriter Beck, who approached the pair to chat.
Pitt and Beck weren't the only celebrities to attend the Thundercat performance. It's reported that Ty Dolla Sign, Ariana Grande, and Anderson .Paak were also VIP guests in attendance.
From TMZ's footage, the woman's face is never seen. At one point, however, she removes her beenie to reveal a short haircut. It's not enough of an identifying factor as the identity of Pitt's mystery woman remains as such -- a mystery.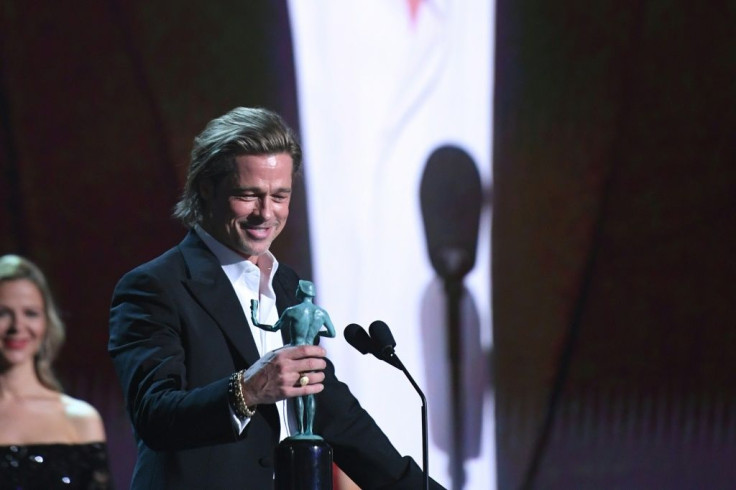 It's likely that if Pitt's mystery woman was, in fact, his date, the two would be keeping it on the down-low. This is considering Pitt's high-profile status and the heavy public interest in his romantic life, following his heavily publicized breakups with Jennifer Aniston and Angelina Jolie.
During the Oscars last month, Pitt showed up with his manager as his date. This followed his recent friendly encounter with his Aniston, which sparked new relationship rumors, according to The Mirror.
At the time, unconfirmed sources told the outlet that Pitt and Aniston apparently rekindled things and went on five dates. "All he can talk about is Jen," the source said on the exes who were previously married for five years. "They have reignited their romance and I haven't seen either of them this happy in years."
Following Pitt's divorce from Jolie, he revealed that he no longer deals with substance abuse relating to drugs and alcohol and that his divorce was key in this accomplishment.
© Copyright IBTimes 2023. All rights reserved.