Brooklyn Rapper Bobby Shmurda Faces New Charges: Girlfriend Smuggled Knife Into Rikers Island, DA Says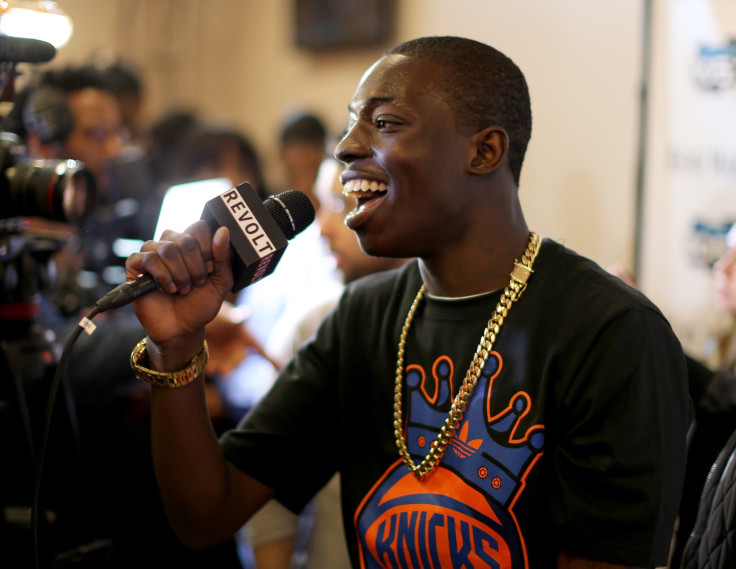 Brooklyn rapper Bobby Shmurda is facing new criminal charges for allegedly taking a knife from his girlfriend while she was visiting him at Rikers Island jail in New York City, WNBC-TV reported. Shmurda has been awaiting trial in a drugs and violent crime case.
Shmurda, born Ackquille Pollard, 20, is now facing charges of promoting prison contraband and perjury in addition to his original charges. On June 21, Pollard received a sharp object from his girlfriend, 18-year-old Kimberly Rousseau, when she was visiting him. She allegedly reached under her bra, took out a knife and proceeded to hand it to Pollard, according to Bronx District Attorney Robert Johnson. Shmurda was accused of lying to the grand jury about the incident, and pleaded guilty to all charges Thursday when he was arraigned in Bronx Supreme Court. His case has been adjourned until October, and he was returned to Rikers Island.
As a result, Rousseau was also facing felony and misdemeanor charges of promoting prison contraband and criminal possession of a weapon. She pleaded not guilty.
Shmurda was arrested Dec. 17 and has been charged with multiple counts of conspiracy, weapons possession, reckless endangerment and criminal use of drug paraphernalia, Billboard reported. He has been held on $2 million bail and could be sent to prison for up to 25 years.
Rapper Flavor Flav posted a video on Instagram Thursday that he's going to bail out Pollard. "Ay yo, Shmurda. Flavor Flav. We coming to get you out, baby," the rapper said in the video, Daily News reported. "We in the bank right now, B, we got dough," he said, as he waved a stack of $100 bills.
Pollard is known for his 2014 hit song "Hot Boy" and for its accompanying music video that created the popular "Shmoney Dance." He has also reportedly signed a record deal with Epic Records. The upstart rapper's attorney Howard Greenberg said in December that he believed Pollard and his co-defendants were targeted because "the government hates rap and hates rappers and hates lyrics."
© Copyright IBTimes 2023. All rights reserved.