Bruce Springsteen Says Clarence Clemons Loss 'immeasurable'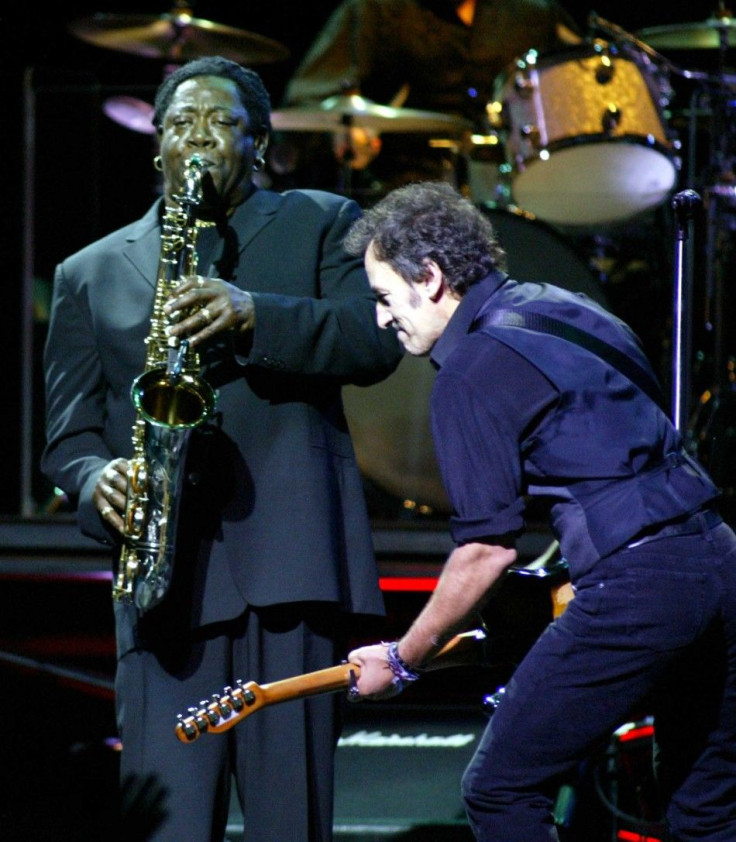 Bruce Springsteen, an American singer-songwriter, mourned the death of his band member Clarence Clemons and said the loss from the death of the big man is immeasurable.
Clemons, 69, suffered a stroke on June 12, 2011 and died due to complications from the stroke on June 18.
Clemons, born on January 11, 1942, was an American musician and actor. From 1972 until his death, he was a prominent member of Bruce Springsteen's E Street Band, playing the saxophone.
Clemons, who played alongside Bruce Springsteen at the E Street Band, made indelible imprints in rock and roll through evergreen hits like 'Born To Run,' 'Thunder Road,' 'Jungleland,' and 'Dancing In The Dark'.
The story of how Clemons first met Bruce Springsteen has even entered into E Street Band folklore. In concerts Springsteen would introduce The E Street Shuffle with a monologue about how they met and the event was also immortalized in Tenth Avenue Freeze-Out.
They allegedly met for the first time in September 1971. At the time Clemons was playing with Norman Seldin & The Joyful Noyze at The Wonder Bar in Asbury Park, New Jersey.
Seldin was a Jersey Shore musician/entrepreneur who, as well as playing piano and leading various bands, had his own record label, Selsom Records. In 1969 Clemons had recorded an eponymous album with this band. In 2008 tracks from this album were reissued on an anthology, Asbury Park - Then And Now, put together by Seldin.
It was Karen Cassidy, lead vocalist with The Joyful Noyze, who encouraged Clemons to check out Springsteen who was playing with The Bruce Springsteen Band at the nearby Student Prince. Clemons has recalled their meeting in various interviews.
Recalling his association with Springsteen, Clemons wrote the following in his memoir: The first song we did was an early version of Spirit In The Night. Bruce and I looked at each other and didn't say anything, we just knew. We knew we were the missing links in each other's lives. He was what I'd been searching for. In one way he was just a scrawny little kid. But he was a visionary. He wanted to follow his dream. So from then on I was part of history.
At the end of shows, while recognizing members of the E Street Band, Springsteen referred to Clemons as The Biggest Man You Ever Seen. He sometimes changed this depending on where the E Street Band performs - at their 2009 concert in Glasgow he introduced Clemons as the biggest Scotsman you've ever seen.
Clemons , who was legally blind in one eye, was married five times. He fathered four sons, Clarence III, Charles, Christopher and Jarod.
Following is the statement of Bruce Springsteen on the death of Clemons:
It is with overwhelming sadness that we inform our friends and fans that at 7:00 tonight, Saturday, June 18, our beloved friend and bandmate, Clarence Clemons passed away. The cause was complications from his stroke of last Sunday, June 12th.
Clarence lived a wonderful life. He carried within him a love of people that made them love him. He created a wondrous and extended family. He loved the saxophone, loved our fans and gave everything he had every night he stepped on stage. His loss is immeasurable and we are honored and thankful to have known him and had the opportunity to stand beside him for nearly forty years. He was my great friend, my partner, and with Clarence at my side, my band and I were able to tell a story far deeper than those simply contained in our music. His life, his memory, and his love will live on in that story and in our band.
© Copyright IBTimes 2022. All rights reserved.
FOLLOW MORE IBT NEWS ON THE BELOW CHANNELS